By Wayne Henderson -
Joe Hart being replaced at English Premier League side Manchester City by Claudio Bravo is the latest example of the changing demands and expectations on today's Goalkeepers.
Possession of the ball is now rightly looked upon as being a fundamental aspect in the modern game, teams at all levels are "playing out from defence" i.e. keeping possession with shorter passes that increase the possibility of regaining possession of the ball, and thus being in control of the game. Managers of clubs across the world are looking to recruit goalkeepers who are comfortable with the ball at their feet.
Pep Guardiola has replaced the English no 1 with Bravo with reason seeming to be the Chilean being more comfortable with the ball at his feet, and the statistics seem to back up the ex Barcelona and Bayern Munich manager.
Short passes (under 25 yards) completed in League games in the last 3 seasons shows that Bravo completed 1310 compared to Hart's 562.
I am lucky enough to coach at senior level and youth level. Across the board, young and old; professional and youth level, goalkeepers are now having demands placed upon them to be "comfortable with the ball at their feet"
There are differences in the demands
The Older the goalkeeper, the greater the expectation on aspects such as decision making and game appreciation is placed. But even at a very young age there is an expectation to have a good level with control and passing, preferably with both feet.
A recent survey in the English premier league showed that over 70% of all goalkeeper activity is now with their feet, which is a startling percentage,
Does your training session reflect these statistics?
A full time goalkeeper who might spend 1 hour per day with his / her goalkeeping coach would be expected to concentrate at least 45 minutes of their session on only their variety of passing, working on distribution with both feet and, or working on back-passes under pressure?
I don't think that's practical, But it has changed the proportion of my sessions that I am devoting to the relevant passing and distribution aspects of the game.
There are many Drills to work on these attributes and the one below is a simple yet relevant drill that I have used, because like so many of our drills now, it is replicating a "game type situation" i.e. something  that can happen 3 or 4 times in any game.
Drill 1
The left centre back / full back passes the ball back to the goalkeeper who in order to maintain the tempo of the move has to take 1 good touch to control the ball and his/her 2nd touch is the pass out to the opposite centre back / full back.
Diagram 1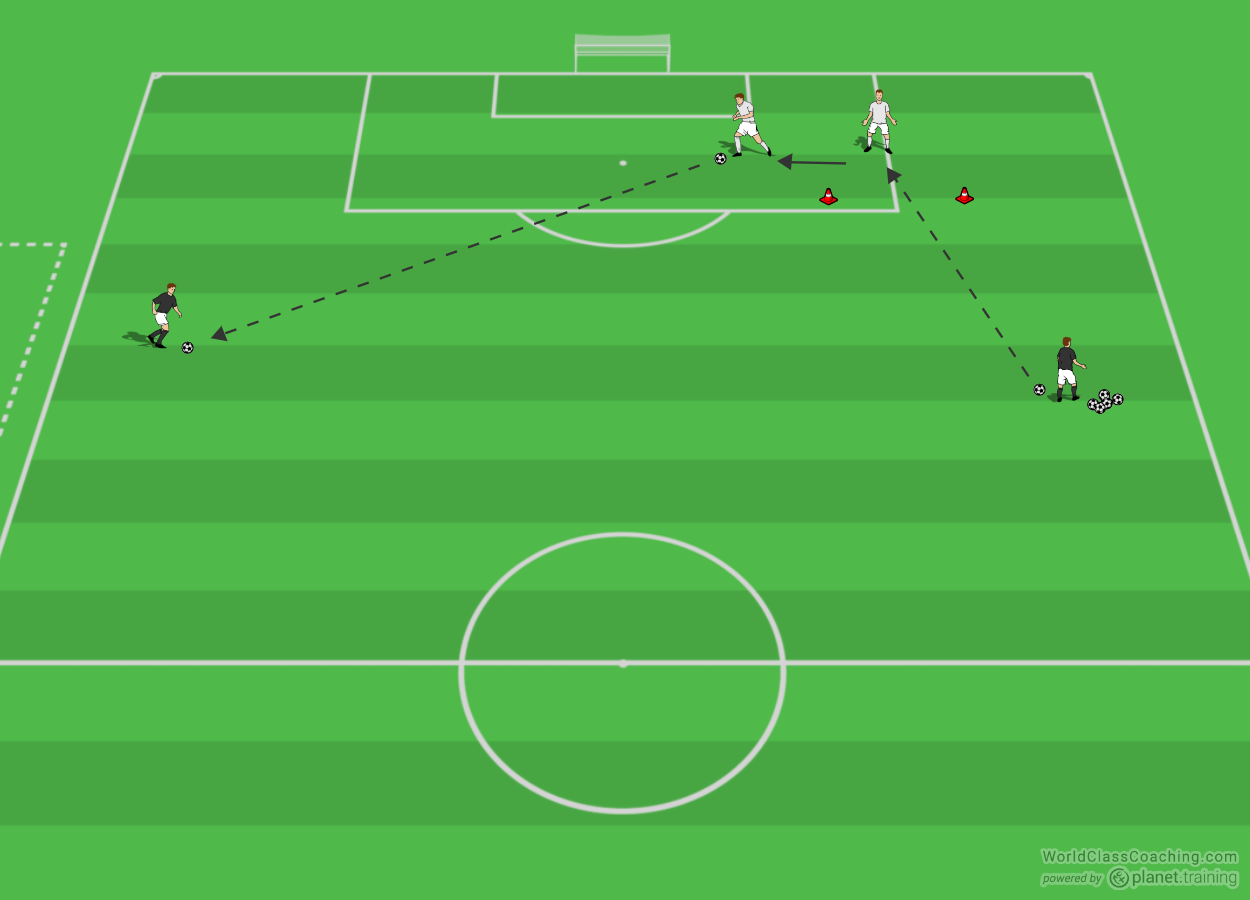 [wpsharely id="821"][/wpsharely]
There are progressions / stipulations to the drill depending on age and ability i.e.
Different types of passes – side foot, chipped pass, drilled pass etc.
Differing degrees of pressure from goalkeepers left hand side
Drill 2
Starting from central position, striker closes down one of the 2 defenders as he/she passes ball to goalkeeper therefor, the goalkeeper can see which defender is marked and which defender is open to pass to and decides which way to turn and play to free defender, In this case, defender 1 is not available so goalkeeper takes a good first touch to his/her left and plays pass to Defender 2.
Diagram 2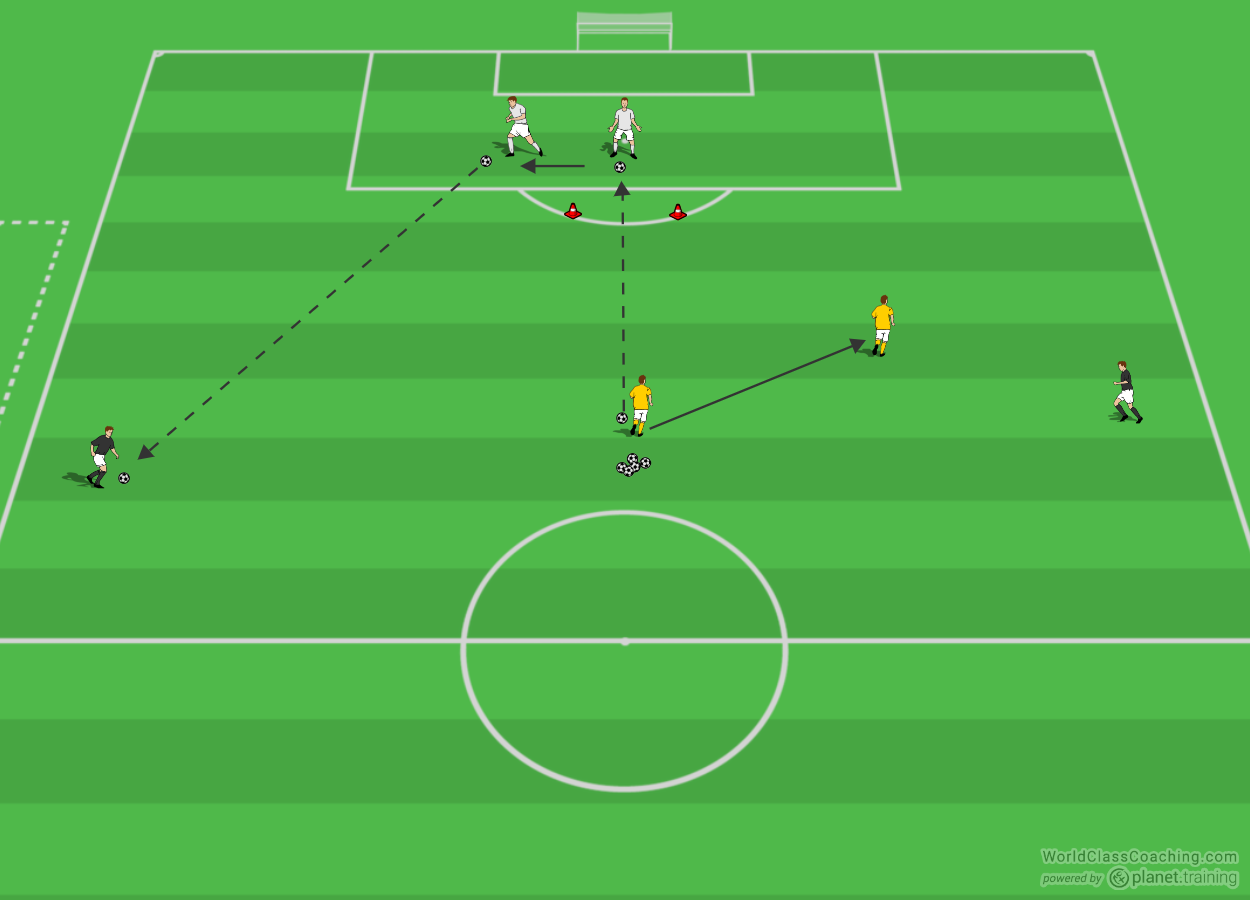 This progression of the drill is better used when the goalkeeper is comfortable using both feet to control and pass the ball, because as in a game you don't know beforehand every time which pass will be available, so the goalkeeper will have to be adept at reading the situation very quickly and then executing a good first touch with one foot and then delivering an accurate pass with the other foot. This takes a great deal of technical ability and confidence.
By Wayne Henderson