by Vasco Mota Pereira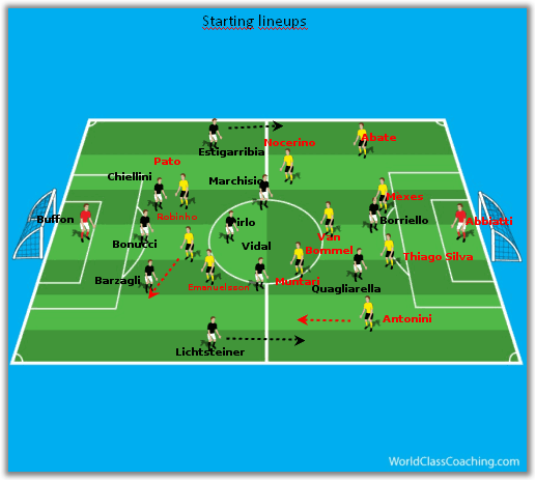 The league match between Milan and Juventus was just a few weeks apart from the first leg of the cup tie, which Juve had won 2-1 in San Siro. This time, the rossoneri were without Boateng, Ibrahimovic, Nesta and Seedorf. Juventus, alternating between 4x3x3 and 3x5x2 throughout the season (the latter being preferably used when playing teams with 3-man defenses, such as Napoli or Udinese, as stated elsewhere), surprisingly went for a 3-man defense themselves, surely because it allowed for a spare man at the back. Also, by now it's hardly a secret that Milan tends to defend very narrowly and that their front two (usually Robinho and Ibrahimovic) hardly provide any contribution defensively; with a 3-man backline, both Lichtsteiner and Estigarribia were free to harass Milan fullbacks.
The game started off as expected. Without Ibrahimovic as their focal point, Milan were finding it hard to get the ball out after winning it back. As the match versus Arsenal for the Champions League showed, this is a team that relies heavily on the Suede's capability of playing with his back to goal and Boateng's penetrating runs. Juventus, in turn, were apparently going for the opposite – quick wingbacks in Lichtsteiner and Estigarribia, and quick forwards in Quagliarella and Borriello. In fact, van Bommel was often dispossessed due to lack of passing alternatives. Juventus seemed to have the game under control.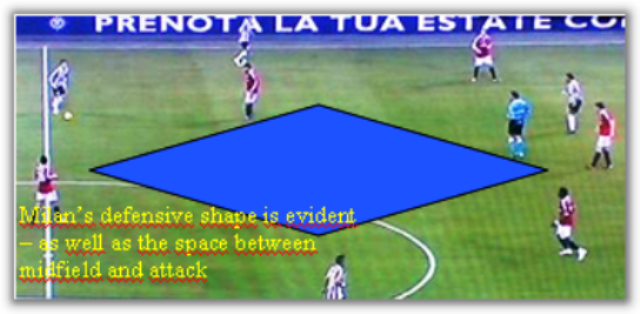 However, the first goal was a game changer. Bonucci's initial passing mistake was only made worse when Nocerino's shot deflected off of Juve's centre-back. From then on, Milan were right where they wanted. To be fair, Robinho and Emanuelsson's work should be praised. Not only did they try to help defensively, but they kept changing positions down the right wing and channel, catching Lichtsteiner out of position and overloading Barzagli. Since Pirlo is not exactly the most efficient patroller of his back three, both players found space to work in.
As for Juventus, their offense was strangely static. With both midfields canceling each other out - Vidal and Marchisio picked Muntari and Nocerino, respectively –, it should be up to the wingers to make Milan pay for their narrowness. Oddly enough, the bianconeri didn't seem particularly keen on moving the ball from flank to flank. Besides, Borriello insisted on giving plenty of good reasons to everyone that wondered why Matri had been left out by giving the ball away all too easily.
The second half brought two substitutions with it. The home team brought El-Shaarawy on for Pato and Antonio Conte, Juve's manager, replaced Estigarribia with Simone Pepe – switching to a 4x3x3 formation, with Chiellini as left-back. The intention was clearly going for the jugular on the wings, leaving Lichtsteiner to watch Robinho's movement up close.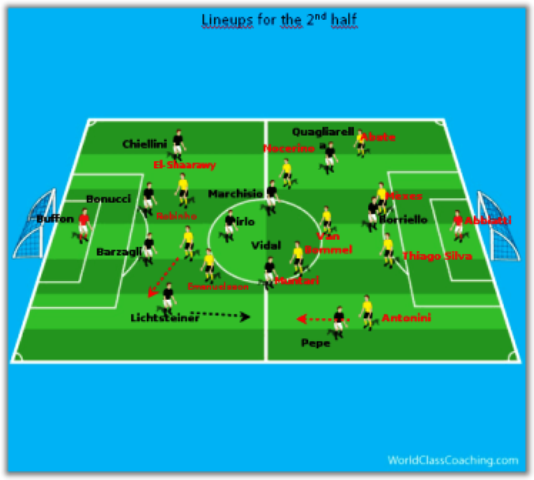 With the away team going for the draw, it was clear they would leave their backline exposed. Indeed, Milan had quite a few dangerous counterattacks that could have determined the winner (Juventus were far from their usual cohesive defensive unit, with too much space between their midfielders), but they weren't able to deliver in the final third. From the moment Conte replaced Borriello and Quagliarella for Vucinic and Matri, the away team became more incisive, and more and more dynamic. Milan, in turn, tried to shut the opposition down by replacing Emanuelsson with Ambrosini (in the good old fashion Italian way), inviting Juventus to pile the pressure on – which they immediately did.
Only then did Juve's wingers and fullbacks start taking advantage of the free space in front of them. In fact, it was no surprise that their two most dangerous scoring chances (one of which provided the late goal) came from crosses from the wings, as seen below.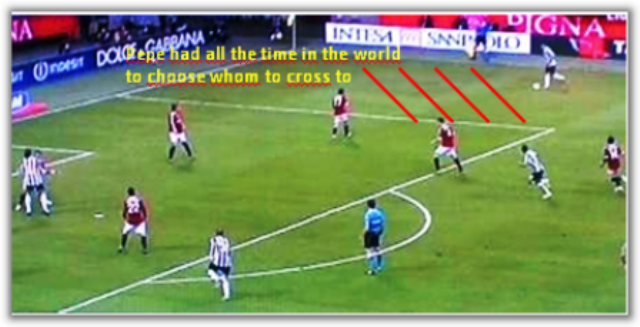 All in all, the draw was a fair result. Milan dominated the first half at will and could have killed the game in that period, but they couldn't help but to go back to their old Italian ways. Juventus intelligently changed formations and took Milan's invitation to take advantage of their weak spot.
By Vasco Mota Pereira – Coach, FEUP University, Portugal and assistant coach for Futsal Club Infante Sagres. combinationplay.blogspot.com