Next week we will have our new book, "Coaching the 4-2-3-1" ready for release.  With teams like Real Madrid, Chelsea, Man City, Spain and others all playing with a 4-2-3-1, this has become our most anticipated book for a long time.  Coaches can't wait to get their hands on it.
Just to give you a taste, I have copied an excerpt from the book below.  Watch this space next week for details on the new book. 
Jose Mourinho's 4-2-3-1 – Ronaldo and Di Maria provide different abilities on the sides
In Jose Mourinho's Real Madrid 4-2-3-1, he has built a very strong team unit, which uses the individual players' abilities very well. For example, Xabi Alonso in central midfield can play long and short passes with ease and this helps vary the attacking angles and types of passes they can play. They have 3 regular attacking midfielders: Mesut Ozil, who doesn't really have a position, he is the number 10 and floats around the field looking for space an generally plays close to his attacking team mates to provide short passing options for quick combinations down the sides or use his agility to turn and find a new pass to the other side. Angel Di Maria, who plays on the right and is left footed, he likes to cut inside and look for reverse passes into diagonal runs, or shooting opportunities but is also very adept at playing long diagonal passes, from deeper positions.
On the left of the 4-2-3-1, Cristiano Ronaldo, who has a powerful shot and is very fast and skilful in 1v1's, and these abilities are used when he is allowed to cut inside and shoot from around the box – Ronaldo scored almost 50 goals in the 2011/2012 season and many were from this sort of attacking scenario – receiving on the left, cutting inside and shooting. He also comes in from the side when Di Maria has the ball, looking for a long diagonal pass or a cross to the back post to use his speed and ability to head the ball well from inside the box to score, as he has done for Manchester United in the Champions League Final, and against Barcelona in the Copa Del Rey Final.
Mourinho's 4-2-3-1 – Ronaldo cuts inside to shoot with overlapping full back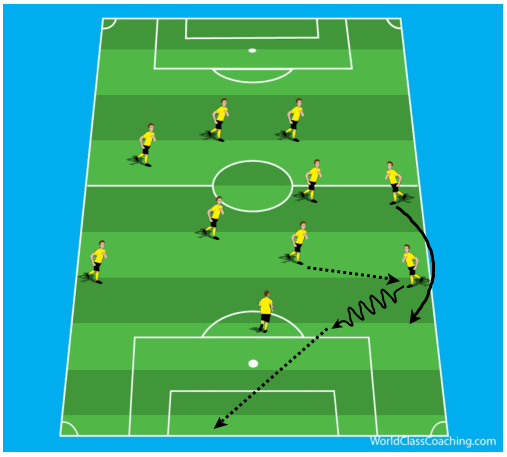 A regular feature of Real Madrid's play is the use of Cristiano Ronaldo's ability to cut inside and shoot from the left hand side. Marcelo or Coentrao regularly overlap to give Ronaldo a decoy run and a new option in case he is crowded out by several defenders.
Coentrao passes and runs ahead of Ronaldo to create the space to shoot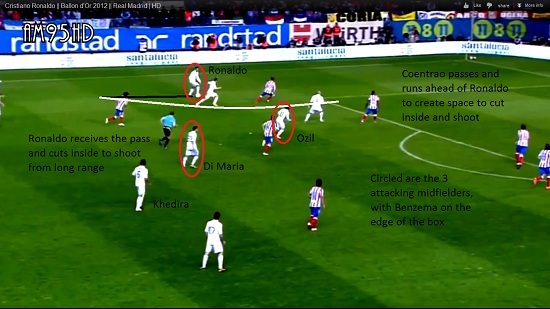 Ronaldo receives the pass and looks for the space to cut inside and shoot. Ozil's forward run will help take away central pressure, while Coentrao's forward run will help take away pressure from the full back. Ozil, Di Maria and Ronaldo are all circled to highlight the freedom of movement in the Real Madrid midfield. Di Maria has moved inside to help overload the centre as Atletico are also playing with a 4-2-3-1 formation.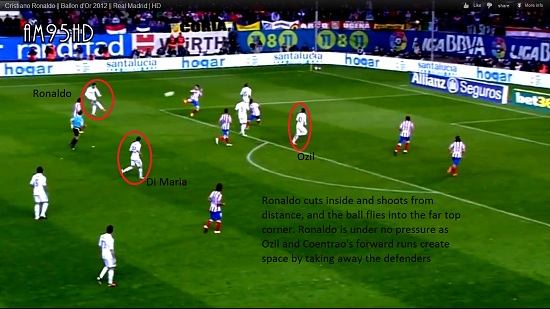 Ronaldo has the space created and on his 3rd touch, he blasts in a shot from 30 yards which flies into the far top corner, under no pressure. The reason he is under no pressure is because Ozil and Coentrao made the forward runs to take away the players who may have pressured Ronaldo's shot.
The chapter continues with a look at Di Maria's role.  The book then includes sections featuring drills and training sessions so you can coach your team to be effective with the 4-2-3-1.