By Josh Jones-Keen -
Incorporating Keepers in sessions can be tough. Most grassroots coaches have limited Keeper experience or might not have the resources available to provide Keepers separate coaching opportunities. Likewise it is becoming more and more important for Keepers to be comfortable with the ball and their feet and to be able to create attacks with varied passing. Training as a whole team can really help understanding and build great relationships between Keepers and the rest of the squad which will reflect positively in a game environment.
I'm the main Keeper coach at my club but often take outfield sessions however tailor them for needs of everyone but with keeper engagement. This session incorporates all players and can be tailored for different number of players & ability. It works on footwork, link up play, awareness and then evolves in to finishing and for Keepers making a save.
Passing/Building Play/Playing out from the back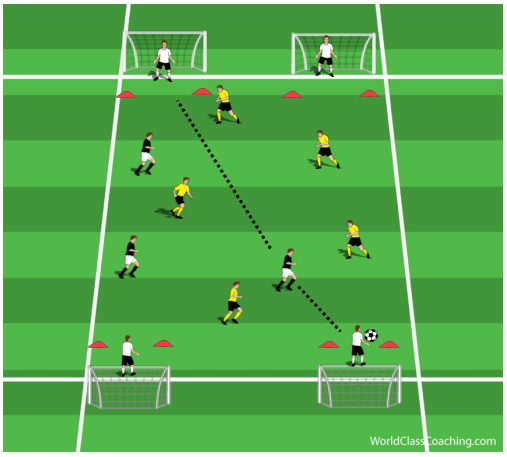 Each team must complete 6 passes to get a point
They can pass between themselves and to the keepers; a completed pass to the Keeper can count towards the 6
Inside the main square players can have unlimited touches, Keepers should be restricted to 2 or 3 depending on age/ability
Outfield players cannot enter the Keepers zone and Keepers cannot leave their zone.
Rotate the teams even allowing the Keepers to go in the inside
Progression
One progression I do with this session is open up the Keeper area and turn it in to two end zones. The rules still apply that Keepers aren't allowed out of the end zone and outfield players are not allowed in the end zone.
The aim remains the same except when a Keeper receives the ball they must now pass the ball to the Keeper in their end zone, who will then play it out. This replicates playing it to left or right back in a game, maybe dealing with a back pass. It's up to you if you let the pass from Keeper to Keeper contribute to the teams point.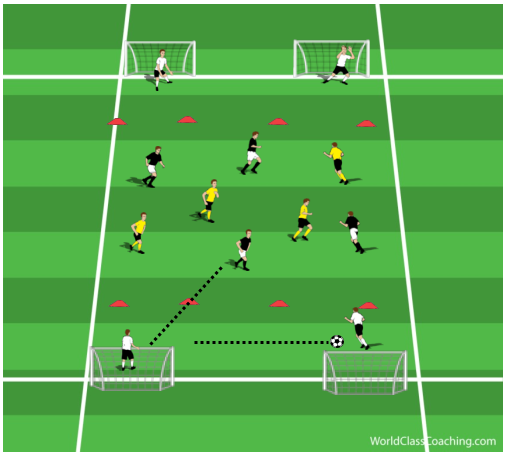 A further progression to add is allowing Keepers to go long diagonally to the other end zone. The receiving Keeper can catch the ball; if they do they can roll out, or take a good touch and then pass out. I would encourage coaches to count a successful diagonal pass from the Keepers as part of the 6 passes needed for a point. To counter act this when the ball enters the end zone one of the outfield players can close down on the Keepers first touch.
[wpsharely id="821"][/wpsharely]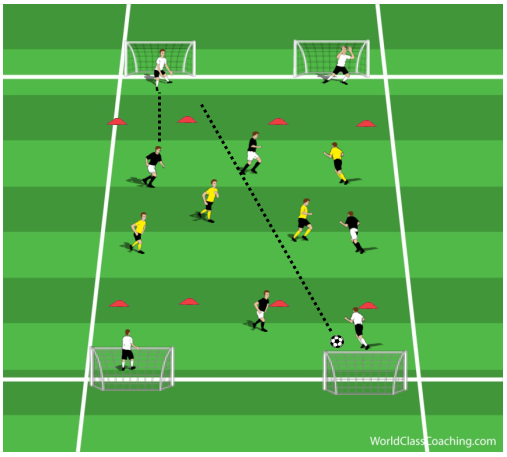 A final progression would be to turn this in to a directional small sided game. Keeping the same set up with end zone the teams now play until opportunity to shoot at either goal arises. If the a shot is saved or caught the Keeper should restart the game, if ball goes out of play in the middle zone a throw in or free pass in should be applied.
Coaching Points
Checking over shoulder
Receive ball on back foot
Body shape when receiving the ball
Quick passing
Change of direction
Varied range of passing
Communication
By Josh Jones-Keen - Josh has been coaching Goalkeepers for over a decade & has both Outfield and Goalkeeper coaching awards from England and Scotland. He's coached at a number of levels from grassroots to semipro and currently coaches non league Women's team as well as a local academy.