This article is by Stevie Grieve and is a sample excerpt from a new book "Modern Soccer Tactics", which is due for release this summer. This book takes a look at the top professional teams like Barcelona, Real Madrid, Man Utd, Man City, etc. and breaks them down tactically. The book also includes practical drills and exercises on how you can teach these tactics to your own teams.
We don't have a definite date yet, but look for it some time this summer.
This excerpt is from the analysis of how the five goals were scored in the final game of the season between Man City and QPR. The book is packed full of these kind of articles and observations.
Diagonal Runs around the box create goals by Stevie Grieve

In the final game of the English Premiership season, there were lots of teams with something to play for – no less than Manchester City v QPR. Manchester City need to win to guarantee winning the league, QPR need to win to guarantee avoiding relegation. If City don't win, they need to hope Manchester United don't win at Sunderland (they win 1-0). If QPR lose, they need to hope Bolton don't win away to Stoke City to avoid relegation.
Manchester City 1st goal – Zabaleta makes run diagonal run inside to receive the last pass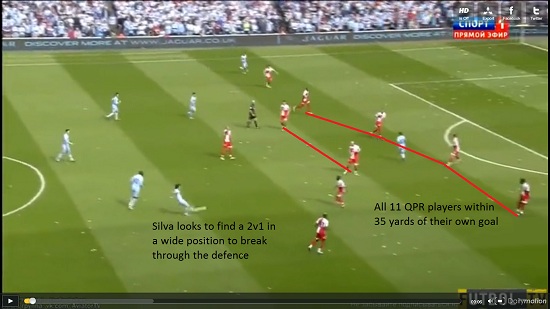 Silva spreads play wide looking for a 2v1, as Zabaleta has pushed forward and he normally arrives late on the overlap. Nasri however is on the other side and as Zabaleta receives, he crosses but it is blocked and bounces back to him to try again.
Diagonal run's around the box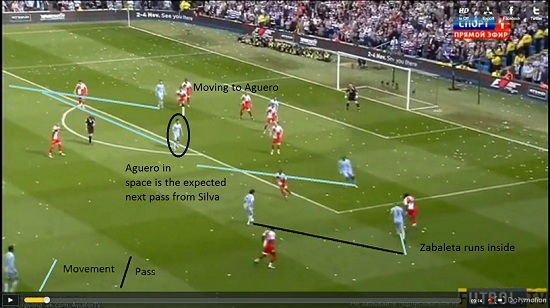 Nasri makes a diagonal run on the far side, which could create space for a switch pass to Clichy. Aguero moves centrally to offer a pass inside from Silva – which QPR will assume is the next pass as he is in a great position to score. Toure makes a diagonal run behind the QPR defender for Silva to pass into space. Zabaleta begins a run inside from right back to offer a different pass where he can't be tackled as the defender will be on the wrong side.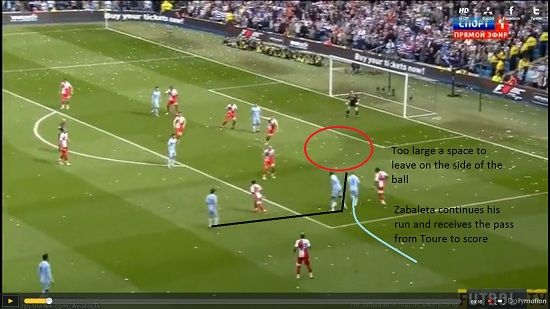 Silva selects the pass to Toure's diagonal run. He may have made this decision as Zabaleta is blocking pressure from the QPR defender, but also offering a 2nd pass from Toure. Note QPR have left far too much space on the side of the ball; this may be due to expecting that Aguero was the next pass and re-adjusting the defence for this pass. Toure plays the pass into the space and Zabaleta smashes a shot which the GK palms into the sky but loops into the far corner for 1-0 City.
As Bolton are now winning at Stoke, QPR start to open up and take more chances on the counter attack. The score is 1-1 here as Lescott had missed a header and Cisse lashed in a volley from 20 yards to get QPR to 1-1 and above the relegation zone. Now that Bolton are 2-1 up at Stoke, they must score again to stay up.
QPR 2nd goal – front post run creates a back post goal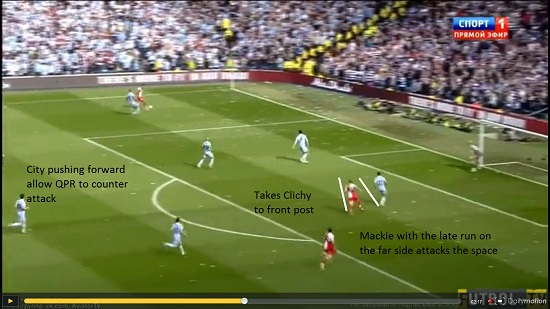 On the counter attack, the ball is passed down the left. Mackie – playing on the right of the 4-2-3-1, attacks the back post as Helguson play's centrally. Helguson knows a cross will be coming, and he knows that Mackie is behind him. Helguson makes a clever decision – attack a front post cross and allow the opportunity for Mackie to receive in space at the far post, which he does and scores to make it 2-1 QPR.
City are 2-1 down and push more and more players forward with every attack, and with QPR knowing that only 2 goals can relegate them, they are happy to sit in and defend. Joey Barton gets himself sent off for an off the ball incident with Tevez and this gives the City crowd – who have only seen their team drop 2 points at home all season – renewed hope they can find the 2 goals they need to win the league.
Dzeko scores from a corner in the 90th minute, just as the Manchester United game has finished 1-0 to United, who have players celebrating their 'League triumph'. Nobody expects City to score again with 3 minutes of injury time left. Bolton v Stoke is now 2-2 and QPR are safe, regardless of the result.
City's 3rd goal in the 94th minute – Aguero and Kompany make diagonal runs to win the league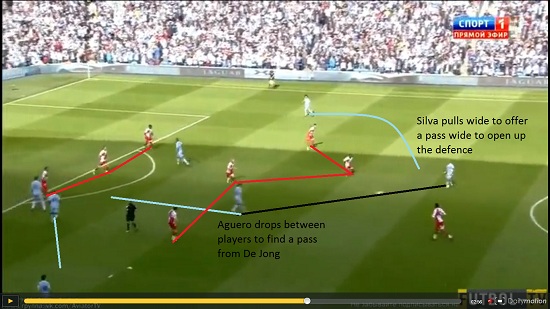 As De Jong moves forward with the ball, Silva pulls wide to offer a pass right in lots of space. Aguero drops between 2 of the midfield 4 (Joey Barton has been sent off) and De Jong selects this pass. Note City has Kompany on the edge of the box with Balotelli moving across the front of the defence.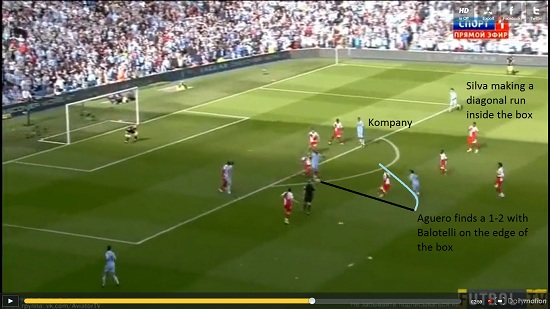 Aguero turns and uses Balotelli's diagonal run across the defence to play a 1-2 with Balotelli and try to receive in a shooting position centrally.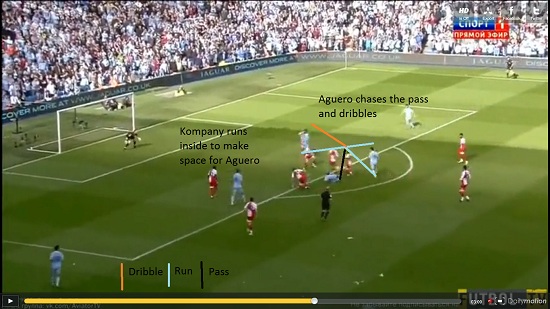 As Balotelli is so tightly marked and front pressed, he knocks a hopeful pass to Aguero between the 2 QPR defenders. Kompany knows he can't receive the ball, so he makes a very intelligent diagonal run – this means the defender will follow him - this stops Aguero from passing to him in front of the goal but creates the space Aguero needs to shoot. He fakes the shot and continues inside the box.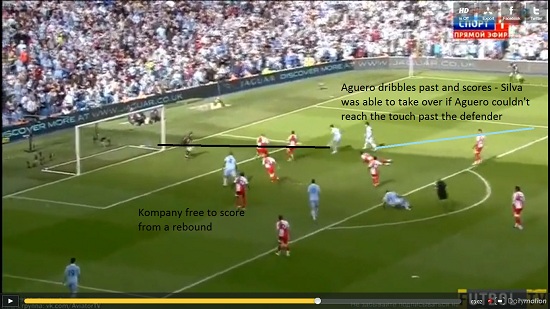 As Aguero makes the decision to shoot at the front post, the goalkeeper moves the worng way and Aguero's 94th minute winner wins Manchester City the league! Note Silva's diagonal run from the right – had Aguero been unable to reach his touch, Silva was on hand to have a shot from 8 yards and potentially score the winner here himself.
3 of the 5 goals in this match came from diagonal runs inside the box, and this goes to show how effective these types of runs can be in creating space to score vital goals.
The complete game review in the book "Modern Soccer Tactics" continues with a series of drills exercises that you can do on the training field to teach your teams diagonal runs.
You can also find more tactics like this from English Premier League championship winning coach, David Platt of Manchester City here.