By Alex Trukan
Using three centre backs and two wingbacks is now widely discussed and utilised strategy in modern football. It has numerous advantages when attacking: creating overloads centrally, strikers' duo up front or, flexibility on the wings. In addition to this, it offers obvious strong protection at the back with good options to counter attack. This article, however, discusses how 1-3-5-2 can be used when pressing from the front and dealing with opposition build up from the back.
With many teams playing with four at the back, using 3-5-2 gives an option to match up two central defenders when a goalkeeper is in possession. With three midfielders matching up opposition centrally, this will open two full backs and invite goalkeeper to play into wide areas. This approach, however should be seriously considered as it might force a goalkeeper to go direct and use strikers in a long build up rather than full backs.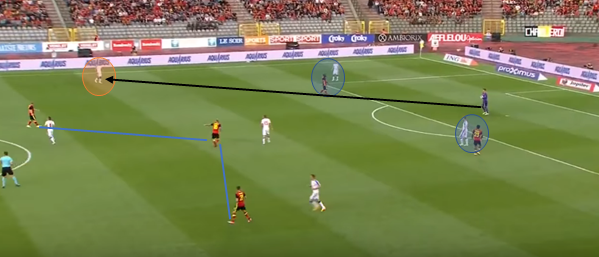 Another option is leaving one of the centre backs unmarked and letting him get on the ball. This is safer and more patient approach. As open centre back gets on the ball, three central midfielders should match up opposition's 6, 8 and 10. Two strikers should cut the option to recycle the ball back through another centre back/goalkeeper. Option to go into full back might be left available with wing back stepping up and being ready to deal with him in a duel.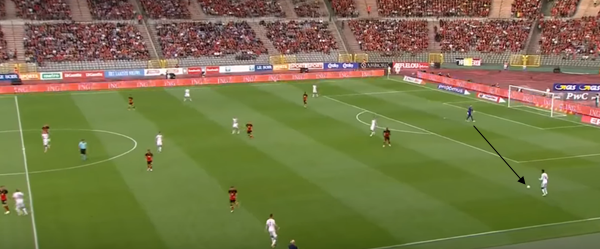 As soon as the ball goes into the full back, all players around the ball should narrow up and cut the distances shorter. Three midfielders centrally will provide good platform to win the ball in those areas, while two strikers in front of the ball not only prevent opposition from playing back but also give an opportunity for a counter attack.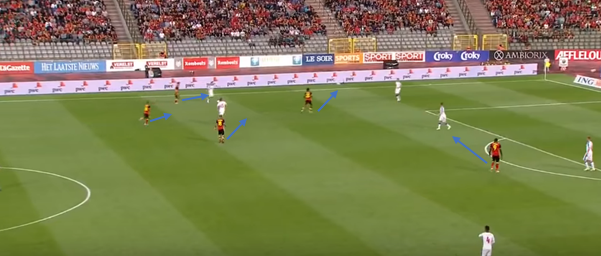 As there is high pressing applied in 3-5-2, it is crucial for three at the back to cover spaces in behind. Having three centre backs in opposed to two gives good cover and allows two of them to deal with strikers/long balls while the remaining one supports from the back.
By Alex Trukan, Development Coach, Nottingham Forest -  @AlexTrukan