By Stevie Grieve. The complete article can be found in the February issue of the WORLD CLASS COACHING Magazine in the Member Drills Database.
Jose Mourinho has had unparalleled success since 2004, he has won every possible trophy domestically in Portugal, England, Italy and Spain, while winning the Champions League twice in this period. His teams are always defensively strong, have a very organised system to deal with defensive transitions and are always incredibly dangerous on the counter-attack.
One aspect of Jose Mourinho's teams that don't get the praise they deserve, is the fluid attacking play that he gets from his teams, and this Chelsea team have some great players which allow for a fluid and attractive style of play, but the Mourinho defensive transition is always an element to look for, which explains why Juan Mata is being left out of the team in favour of Willian.
Chelsea Movements – Lopsided 4-2-3-1 – higher on the side that Hazard plays in
Blue; Back 4. Black; Mid 2. Yellow; Mid 3. Red; Striker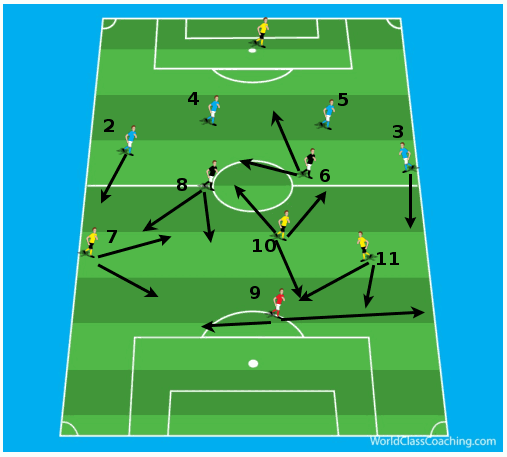 Left side (3 + 11 controls the movements); When Ashley Cole plays at 3, he will overlap and give Hazard more freedom to move inside. As he does this, 10 will drop off to help keep 3 in central midfield and allow 6 to cover left centre and protect the move forward from the left back. 9 will drift right and give more space for 11.
If 3 doesn't go high, 9 will drift left and re-create the width on the left side as 11 moves inside. If 9 drifts left, 7 will move inside to have both 11 and 7 between the lines, where 8 will drift wide (if Ramires is playing).
Central (10 and 8 controls the movements); When 8 (Lampard or Ramires) moves forward between the lines, 10 will drop deep and help build the attack. If 8 arcs around to the centre-left side, this opens up a diagonal pass from 6 into 7 between the lines for either Hazard/Mata or Willian to come inside as Oscar helps balance the play in central midfield.
Right side (7 and 10 control the movements)
7 must help protect the right side to re-balance the ream as 11 (Hazard) is to stay high in the lopsided formation. He will move inside as 10 drops deep when 8 moves forward between the lines to the left-centre, as 11 stays high and wide on the left side.
Chelsea v Liverpool
Lampard (8), Oscar (10) and Hazard (7) Rotation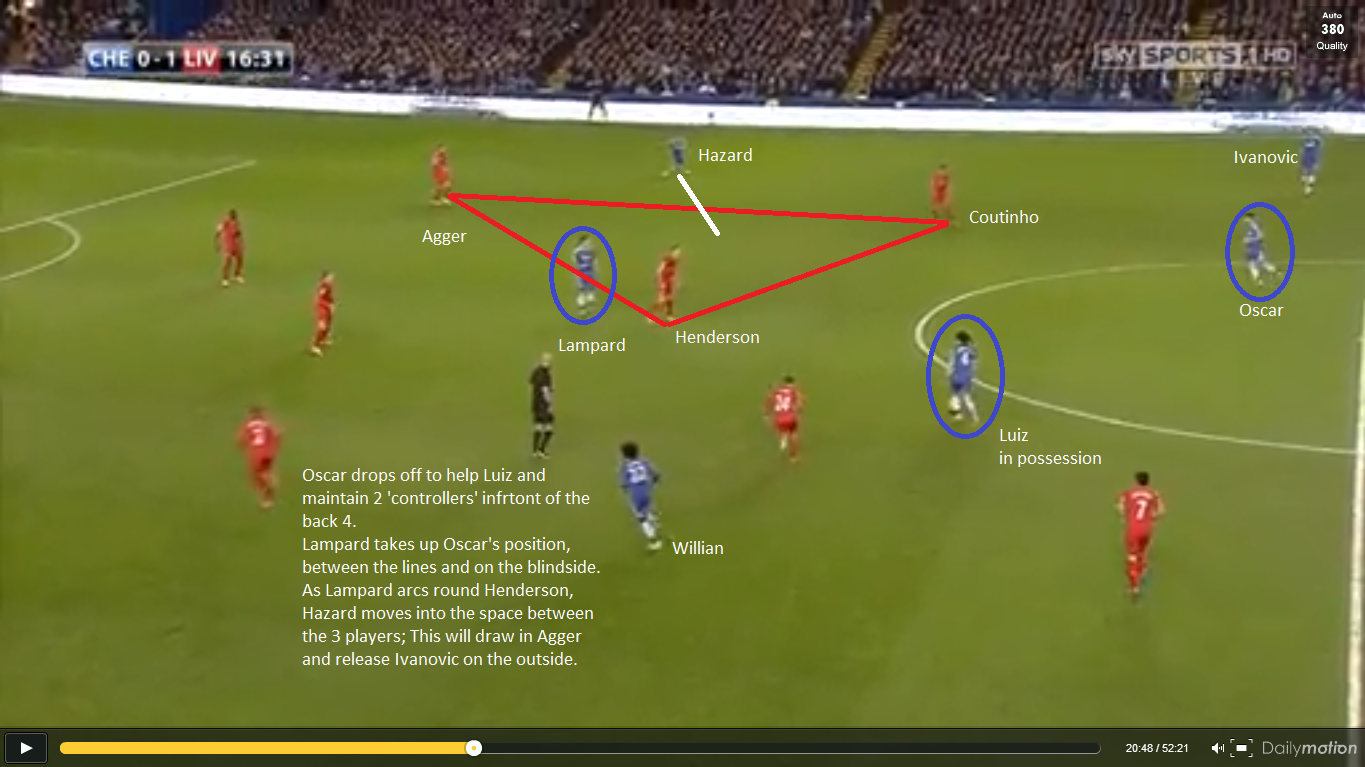 Here, Luiz is in possession, and has Oscar in support on high right, as Lampard moves into Oscars position between the lines. Henderson has dropped deeper to block the pass into Lampard, which opens up space for Hazard to move into and receive, drawing out Agger and opening space outside.
[wpsharely id="2988"][/wpsharely]
As Hazard is under pressure as he receives, Luiz shifts over allow a counter-press incase Hazard loses possession. Lampard and Willian are in positions where if either Allen or Lucas are drawn to the ball that he is behind their eyeline, allowing to receive behind the opponent in a dangerous area.
By Stevie Grieve. (Follow on Twitter @steviegrieve) The complete article can be found in the February issue of the WORLD CLASS COACHING Magazine in the Member Drills Database.  Stevie is also the author Coaching the 4-2-3-1 and Coaching the 4-2-3-1 Advanced Tactics