This is a portion of an article that appears in the November edition of WORLD CLASS COACHING Magazine. It's available to all subscribers of the Member Drills Database. The article contains an analysis of the game between Borussia Dortmund and Bayern Munich. The author, Stevie Grieve, looks at the factors that lead to an effective transition resulting in a goal.
Direct passes into the striker need willing runners from deep to become effective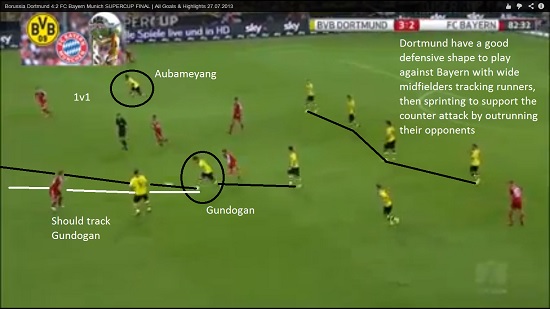 As Gundogan receives possession, he quickly initiates a new attack by passing directly into Lewandowski's feet to hold up play while 2 runners break wide from midfield to offer support on the counter attack.
Note both wide midfielders have dropped deep to cover the runs from Robben and Ribery on the sides.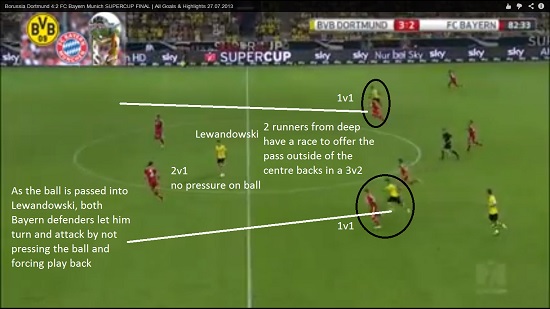 As Lewandowski receives with his back to goal, he is unpressured and can turn to look for options for a forward pass to attack direct to goal using the speed or the support runners who both have 1v1 races on the outside into the spaces left by the full backs. If Lewandowski can turn, an attack is on.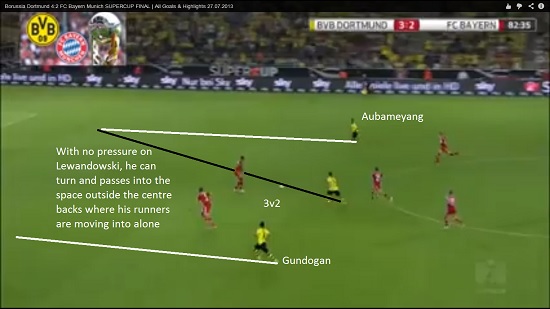 Lewandowski turns and has 2 options, but chooses the best one – right to the faster and in more space to attack, Aubameyang, who runs through 1v1 against the goal keeper.
The reason this was the best option is because the right of the 2 centre backs is able to intercept a pass between the central defenders into Gundogan on the left, and there is nobody who can do that on the right side. Unfortunately the pass is slightly over hit and Neuer can make the save.
[wpsharely id="6889"][/wpsharely]
To see the rest of the article log in to the Member Drills Database or click here to subscribe.
Have a great day!
Tom