This is part of the first chapter of our new book, Attacking in the 4-2-3-1, by Stevie Grieve
When we are trying to make training sessions for the 4-2-3-1, we must be mindful of which areas we can take more risks in to try and score a goal.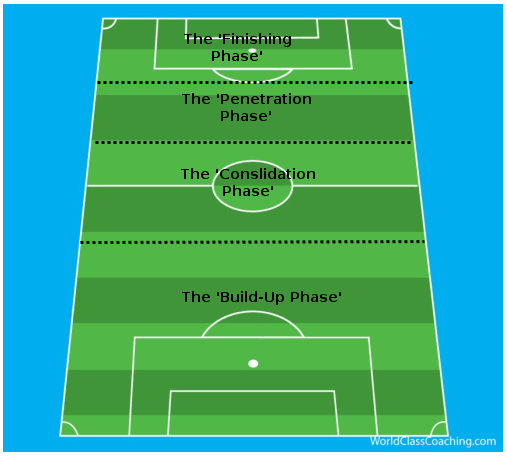 Build Up Phase
When close to your own goal, you should try to build safe possession and ensure that the ball can be brought forward into the Consolidation phase. Players should look to keep the ball moving across longer distances across the defensive line and if possible, into the consolidation phase via either of the defensive midfielders.
Consolidation Phase
In this phase, we need to ensure that we have gained control of possession and are looking to find a way into the penetration phase, but only at a time where an attacking player can receive in a dangerous position with options to attack. The ball can be passed forward and then back into the consolidation phase to keep the defense moving, but also to try and draw people out of position for another player to exploit the space. Possession should still be safe, but with more intent to get into an attacking position.
Penetration Phase
In this phase, players are encouraged to take more risks and find a way through the congested final 3rd area, with between 3-7 attacking players inside this zone, and between 3-9 defensive players, speed of thought, positional rotations, eliminating defenders via dribbling and quick passing is vital to being successful in the penetration phase. Players will look for diagonal through balls onto straight runs, straight through balls into diagonal runs, 3rd man runs, 1-2's, dribbles, overloads and overlaps to try and bring the game from potentially a 6v8 scenario, to a 2v2,3v3 or 4v3 scenario in one zone to make the game less complex and easier to find a way to penetrate the defense and make a scoring chance.
[wpsharely id="2988"][/wpsharely]
Finishing Phase
In this area, the aim is simple; to score. Players should look to get into scoring positions whenever possible, and offer different solutions to the problems players will face when the ball is close to the goal – how do I avoid being marked? How do I receive under no pressure? How do I create space for my team mates? How many touches can I take? Is the chance reaction based (rebounded chance), instinct based (little time to shoot under pressure), technique based (using the defender as a guide to curl the ball around and away from the GK), or is it a determination chance (fending off a defender using strength under pressure to shoot).
Players must be willing to be brave in this scenario, look to gamble on a slice of luck coming their way, and be willing to miss a chance by shooting – no shots = no goals.
Players can retain possession in this zone and pin the defense back, but always be on the move to lose the marker and find a way to get on the ball to score.
This is part of the first chapter of our new book, Attacking in the 4-2-3-1, by Stevie Grieve