I love set plays.  Well, let me clarify that.  I love well thought out set plays.  They don't necessarily have to work because let's face it they don't always work.  But the well thought out set plays show some creativity.  Anything is better than the mind numbing default crosses from wide positions or shots from just outside the box.
A great example of a creative set play that worked to perfection was when Argentina scored at the end of the first half in the 1998 World Cup.  It was a free kick from about 25 yards out.  It looked like they were setting up for a shot but a quick pass down the side of the wall to Zanetti caught England napping and Zanetti fired a shot to pull Argentina level at 2-2.  Argentina went on to win the game on penalty kicks...I won't mention the Sol Campbell header in extra time that was mysteriously disallowed and would have no doubt won the game for England.  Still rankles me that.  But let's focus on the great set play.  Maybe I will post this one another time.
Anyway, last week, I saw another neat set play from Liverpool when they played West Ham in an EPL game.  It was from a throw-in near the corner flag and was designed to get a player free to shoot, run into the box, etc.  The set play worked great until the final pass to a player on the edge of the box who wasn't able to get his shot off.  But it's one that can be easily copied and I'm sure will pay dividends.
Here it is broken down.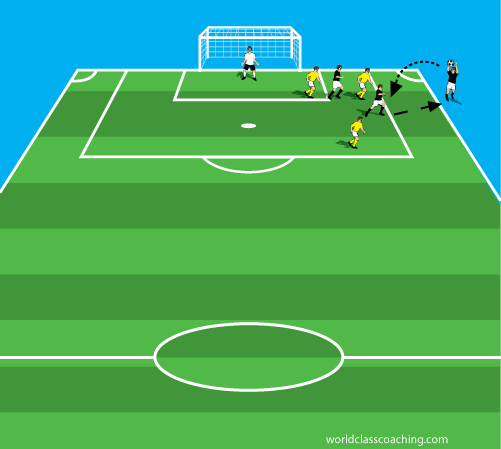 Glen Johnson takes the throw-in.  Maxi Rogriguez shows for the ball and plays it back with one touch to Johnson.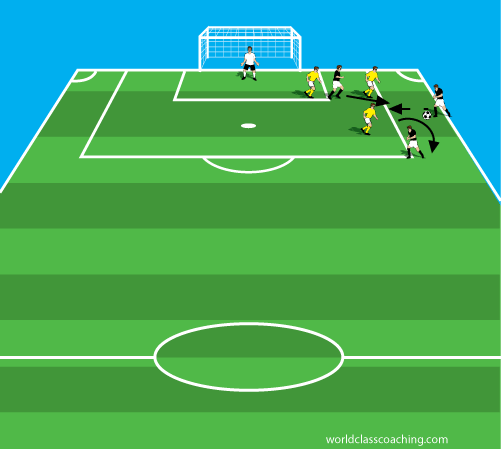 Gerrard, now shows toward Johnson who plays a pass directly to Gerrard that splits the two defenders.  Gerrard plays a one-touch pass toward the corner of the penalty area where Rodriguez has made his run.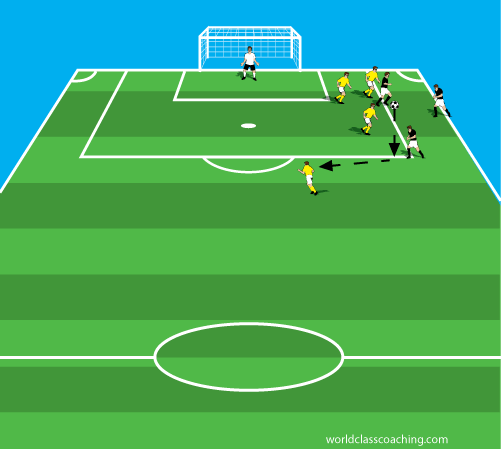 Rogriguez, then plays the ball across the box for an incoming player.  At this point, I guess Rogriguez would have options to do what is available to him.
Let me know if you try this and how it worked.
Mike Saif