By Alex Trukan
This practice is focused on improving players' capacity to recover between high intensity actions. The quicker energy stores will be refueled, the quicker and more powerful actions can be produced. This conditioning element is achieved within technical practice focusing on possession, combination play and long passes. It helps players to execute quick switch of play from one side to the other. This can be used to play away from pressure and disorganize compact defensive blocks.
Set up and Directions
Organize two 8 x 8 boxes, approximately 20 yards away from each other. Divide the team into two groups of three. Three players from one group and one player from the other start in one of the squares. Two remaining players from the other group start in the opposite square. Prepare a sufficient amount of balls to ensure tempo and flow of the practice.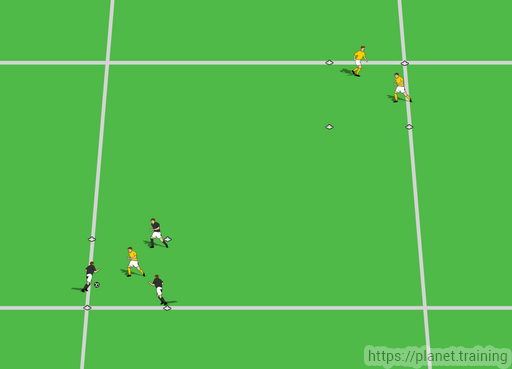 Practice starts with three players keeping possession against one player in their square. Their aim is to make a minimum of 5 passes. The aim of the defender is to win the ball back.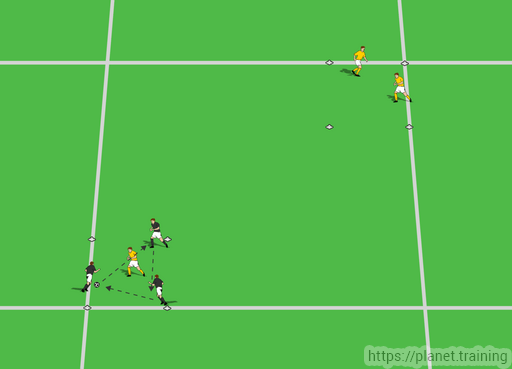 After 5 passes are made, the ball should be transferred into two players in the opposite square. Similarly, if the defender wins the ball back, his aim is to pass it into his teammates in the other square.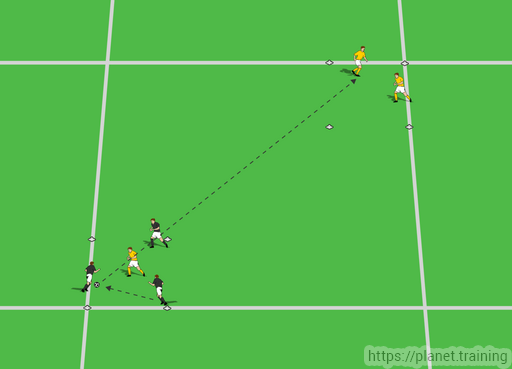 After the ball is transferred, one of the players from each team makes a sprint into opposite square. Player from the team that was in possession becomes a defender. New team in possession has the same task – 5 passes and transfer the ball again.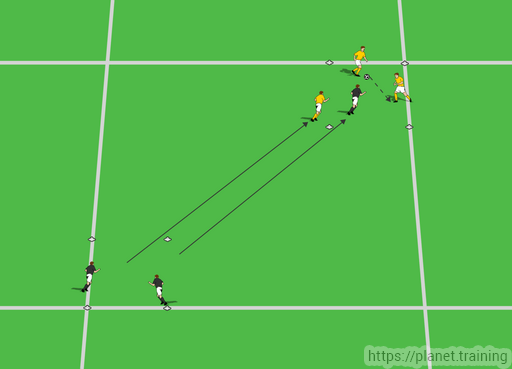 Timing:
The practice should be continued 1-3 minutes and repeated 6-10 times in 2 series. The rest period between repetitions should be 3-1 minutes and between series, 4 minutes.
Variations:
- Teams of four (4v2 in the square)
- 3 passes to transfer the ball
- 3v2 in the square (1 target player)
By Alex Trukan, Development Coach, Nottingham Forest - @AlexTrukan