By Sean Reed -
Objective
This session can focus on both attacking and defending play. The focus for the purpose of this session will be on attacking play and exploiting the overload.
Session 1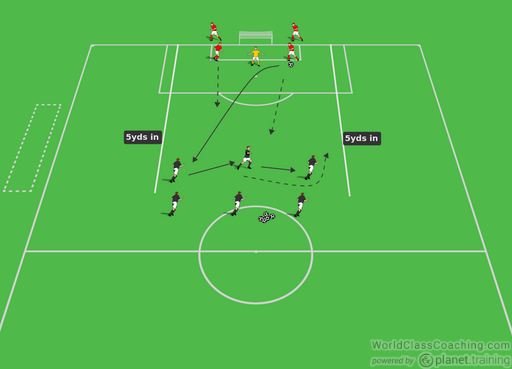 Diagram 1
Set Up
Working within the penalty area up towards the edge of the centre circle
Each side 5yds inside the penalty area
3 v2 + GK
2 Defenders start on the 6 yard area. A defender will play a diagonal ball to the one of the attackers. Once the ball has been played the defenders will accelerate to get up and defend
The attackers set up as a 3 (Using full width). When they receive the ball a pass must be made within 2 touches, then an overlapping run to attack
Once a goal has been scored or the ball is out of play the game stops and the next group set up
Depending on the number of players after the 1st attack a 2nd and 3rd ball can be played in
Offside line included
Progressions
On the 2nd and 3rd ball the attacking team are restricted to a time limit (i.e. 6-8 seconds) to get a shot off to encourage speed of play and exploiting overload before recovering defenders (within a game)
Coaching Points
Direction of first touch and movement to create space / option
Forward runs, overlapping, running in behind to disrupt defending players
Movement to create space and angles of support
Creating 1v1 and 2v1 situations
Be positive
Decision-making in possession drive forward or pass
Timing of pass and movement
End product / finish on goal
Tempo of play to exploit overload and isolate defender• Timing of movement of when to come in (high up) or stay wide (deeper)
Session 2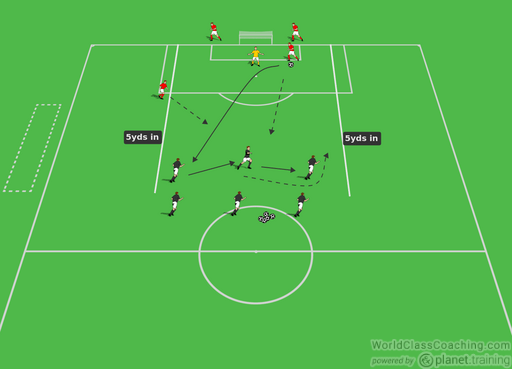 Diagram 2
Set Up
As with the previous set up, but the defender will start in a wider position
Progression
Change the side and starting position of the defenders
Coaching Points
As within previous session
Tempo of play to exploit opportunities
Exploit the gap between the 2 defenders
Session 3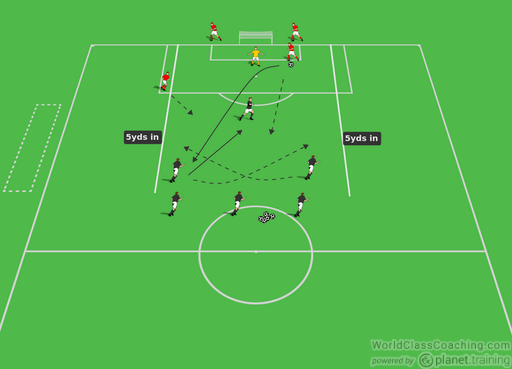 Diagram 3
Set Up
As with the previous set up
The attackers are set up with 1 central attacker starting higher up
When 1 of the wide attacking players receive the ball, within 2 touches a pass must be played into the central striker
Coaching Points
As within previous sessions
Decision-making for the striker to hold up, turn or play
Supporting attacking players, movement, forward runs, Get across the front / 3rd man running
By Sean Reed
Former First Team Coach of Championship side Fulham FC. Sean is a UEFA A Coach with a Masters in Sport Coaching. He has over 15 years of experience working in professional football from Academy through to First team in the Premiership and Championship.
Web - www.seanjreed.com
Twitter - @SeanJReed