By Stevie Grieve, Author of Coaching the 4-2-3-1, Coaching the 4-2-3-1 Advanced Tactics here  AND his new book, Beating the 4-2-3-1.
This article is an excerpt from the chapter called "Exploiting the Central Midfield" from our new book, Beating the 4-2-3-1.
Attacking the centre of the 4-2-3-1
When attacking the 4-2-3-1, one of the main strengths is the base of 2 players infront of the back 4, but playing in a manner which forces one of the players to come out and press, especially against a dribbler who likes to play quick passes in their stride while running, can be an easy way to penetrate the midfield line, pull a central defender out for a through ball into a run behind the defence, or even allow for long range shots if enough space is created.
Drawing out one of the defensive midfielders isn't always easy - playing with several players occupying the same space can allow for wide attacks, wide play can force one of the players over to help the full back press the ball and leave central space.
Chelsea v Napoli – Napoli's 3-5-2 (3-4-1-2) overcomes Chelsea's 4-2-3-1 via central attacks
Wing Backs provide support on the sides to move holding midfielder over to play 3v2 on the side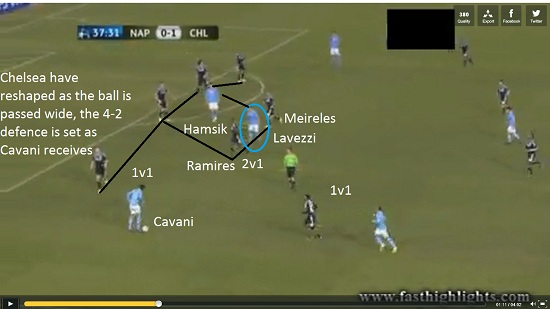 Cavani pulls wide to leave Hamsik and Lavezzi playing 2v4 against Chelsea's centre backs and holding midfielders. Napoli's left wing back support's on the overlap bringing
Continue reading