By Alex Trukan
The following practice is designed to develop upper body (core) and lower body strength. That can be used in and around the penalty box by the strikers holding the ball away from the opposition as well as in the own half of the pitch by the defenders. From the technical point of view, the practice focuses on defending position with the player pressurising from the back. The great thing about this exercise is that it can be adapted to different numbers as well as it's a great fun.
Set-Up and Directions
Organise six cones as shown on the diagram below. Designate one player with the ball each to every cone. The ball should be placed on the cone. Rest of the players (2-3 less than players on the cones) are starting in the middle of the area.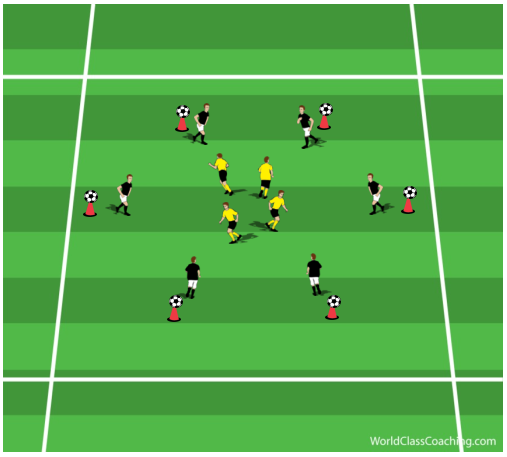 On the coach's signal, defender run to the nearest player with the cone and try to touch the ball so it falls off the cone. The player on the cones tries to protect it.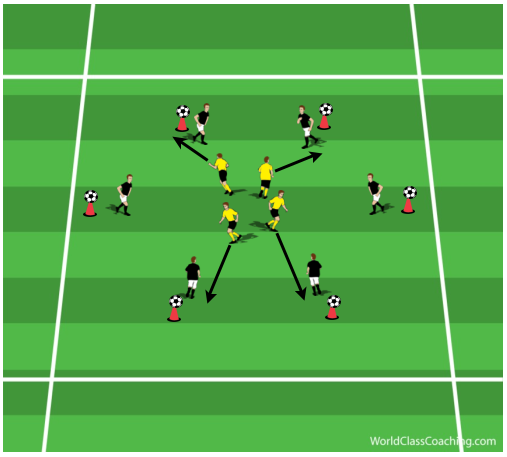 It is crucial to watch for any fouls and not fair play. Players will attempt to do that and its coach's role to prevent it. No sliding tackles.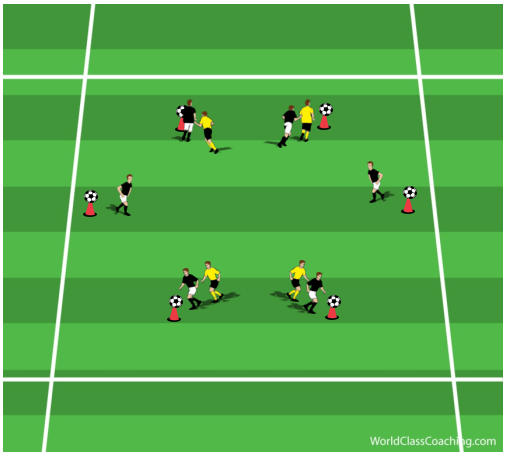 If the ball falls off the cone, the defender finds different player on the cone. The game continues until all the balls are off. Also to increase the time of each round, every player on the cone might be given two lives (when the ball falls off, he can replace it one time).
[wpsharely id="1886"][/wpsharely]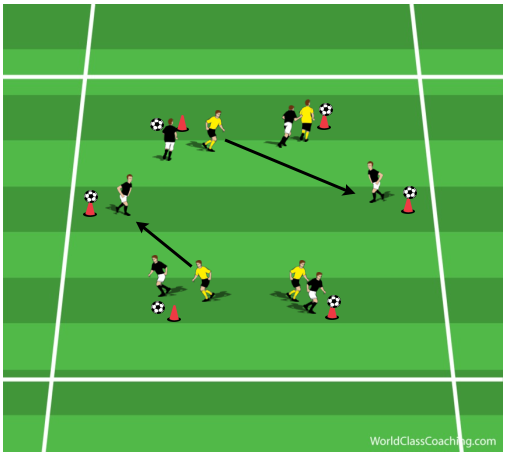 Timing 
Each round should be continued until all the balls fall off or up to 10 seconds. That should be repeated 4-6 times in 1-2 series. Rest period between repetitions should be up to one minute and between series up to 4 minutes.
Variations
Add more defenders (1v1 on every cone)
Change the height of the cone (changes the body position of the player protecting it)
Two lives for player on the cone
By Alex Trukan, Development Coach, Nottingham Forest