By Alex Trukan
The following practice is aimed at improving players' repetitive short sprinting power. This conditioning element is responsible for maintaining the quantity of high intensity actions throughout the whole game. Therefore, players will be able to make sprints and bursts even towards the end of the match without loss in its' quality. The practice also focuses on finishing skills after a quick change of direction as well as 1v1 duels challenging players' dribbling and staying on the ball ability. The set up of the practice makes many adaptations possible to suit different needs a team might have.
Set Up and Directions
Organise two goals in front of each other, approximately 30 yards apart. Set up two poles/cones 10 yards from each goal, as shown on the diagram below. Organise two cones on the sides of the goal which will be starting points for players involved. Designate appropriate area, using approximately penalty box width. Divide the team into four groups and organise one group on each of the starting positions. First player from two groups (diagonal) has the ball at his feet. Prepare a supply of balls to ensure flow of the practice.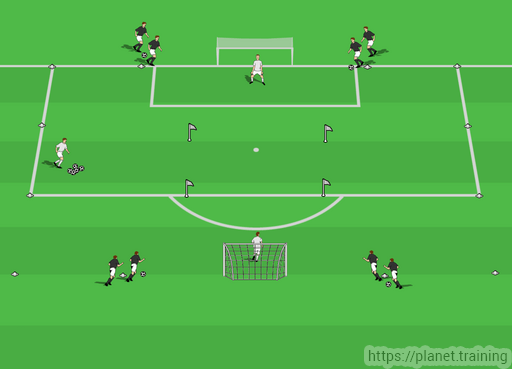 The practice starts with first player from two groups passing the ball diagonally in front of the goal. At the same time, first player from the other two groups has to sprint around the nearest pole and get to the ball played out as soon as possible.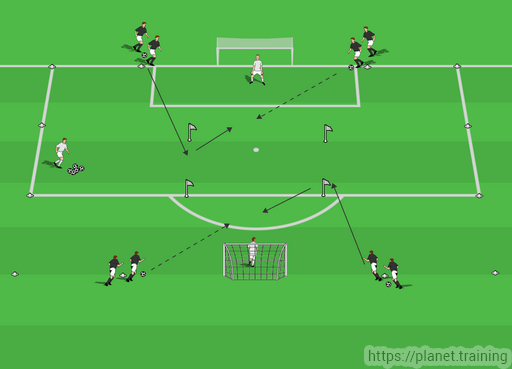 The aim is to then finish in goal with quality. It is important that the timing of the pass allows accurate finish off one touch. After the finish, both players should get set and ready for 1v1 duel.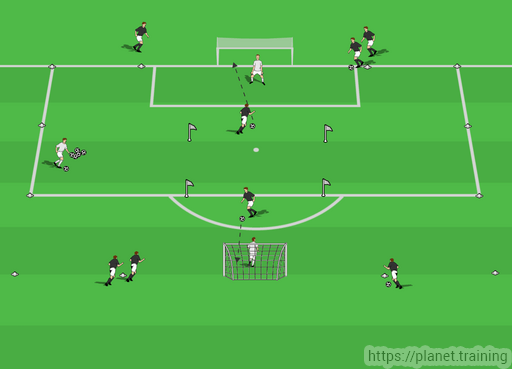 As soon as the first player had a shot, a ball is played into him (whoever finished first) by a coach. This player then becomes the attacker and tries to win the 1v1 duel and score. Player in possession should dribble between the poles before a finish to make it count.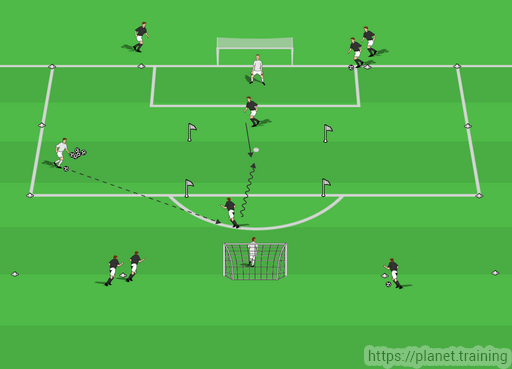 Timing:
Each player should make 6-10 repetitions in 2-4 series. Each repetition should not be longer than 6 seconds. Rest period between repetitions should be 20-30 seconds, and between series – 4 minutes.
Variations:
Coach gives a signal which goal to attack
The ball played by a coach before a finish is made – turn and get to the ball first
Get around the furthest pole before a finish (no 1v1 in this variation)
By Alex Trukan, Development Coach, Nottingham Forest
@AlexTrukan