By Soren Schamberg
Brentford vs. Wolves - 1/22/2022
Examples of moving an opponents defense to create scoring opportunities are noticeable week in and week out in the Premiere League. Though it is Pep Guadiola who is know for saying "we move the ball to move the defense." It isn't noticed with just Manchester City and their talented players.
Case in point is when watching the Brentford and Wolves matchup on 1/22/2022. What makes this even more intriguing is that both teams initially set up with the same formation, a 3-5-2
formation.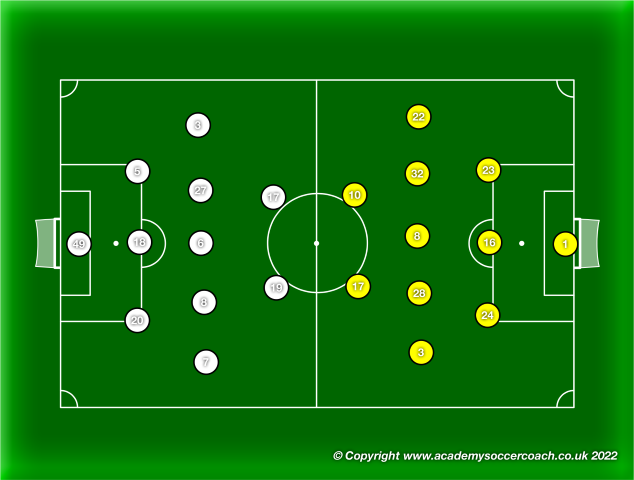 Where these two sides differed is in their systems of play. Wolves tend to implement a high press to win the ball back quickly and high up the field keeping their opponents on the back foot and Brentford are known to absorb their opponents pressure and try to counterattack with direct balls to their attacking forwards and/or win free kicks in the attacking third to create set piece opportunities.

Wolves came away with the win, 2-1 with both of their goals resulting from build up play in the half spaces in Brentford territory.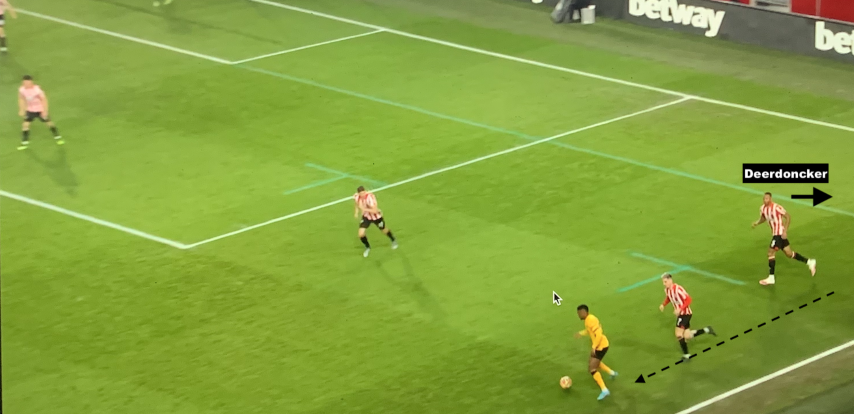 The first goal, scored by João Moutinho, was initiated by Wolves' Semedo positioning himself wide to receive the ball while Derdoncker makes a run towards the corner using the right channel to push the Brentford defense back to their 18. Dendoncker draws his marker with him and as he plays the ball back, there are two other Brentford defenders now occupying the right channel.

This creates space for Semedo, who has received the ball back from Derdoncker to now play the ball to Neves who plays to an approaching Moutinho.

Semedo continues to move with the play by working towards the half space while Moutinho is given the chance to turn with the ball and start moving forward. Here, Christian Nørgaard does not get out to close him down quick enough and the 1-2 Moutinho plays with Semedo creates enough space for him to place a deft trivela into the far corner. Wolves are up 1-0.
By Soren Schamberg