By Alex Trukan
This game is a perfect option to challenge the players in tight 1v1 situations with the defender from the back. That will develop players' strength, core stability, balance as well as agility to keep possession of the ball away from the defender and at the same time progress as a team onto opposition's half and score. It is highly motivating and engaging game for almost all ability levels.
Set-Up and Directions
Set up a pitch of approximately 25x35 yards. Divide the pitch into four smaller areas. Place one goal on each end. Divide the team into two groups of five, organise goalkeepers in goals. Set every player on each team into different area, so in each of the four zones, there is a 1v1 situation.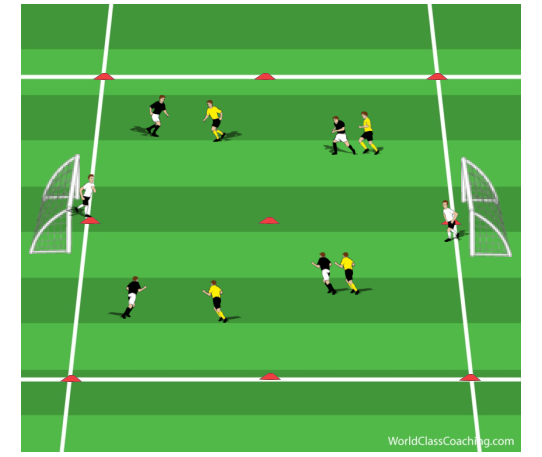 The game starts from the goalkeeper, who plays the ball into one of the nearest (own half) areas, to the player from his team (one to the right, one to the left area). The ball can't be played straight into opposition half.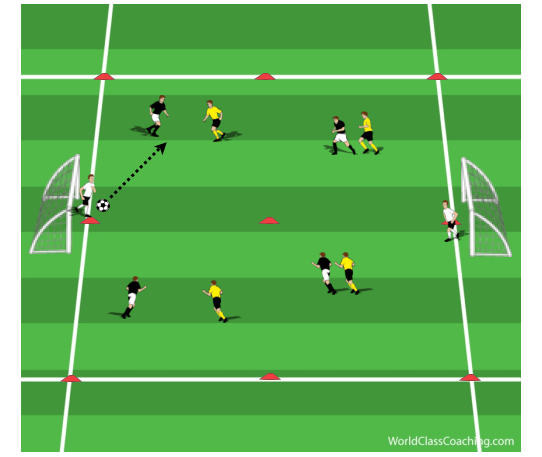 The player in possession then tries to keep ball possession and had to make at least 6 touches before he can play it to the different area.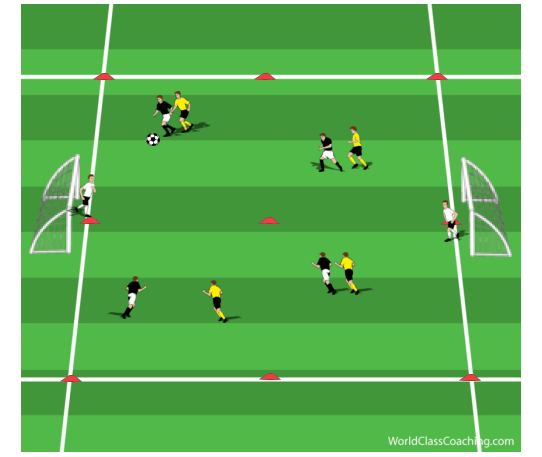 After the player makes 6 touches, the ball can be played to a different square. Ideally, it should be played into opposition's half.
[wpsharely id="1886"][/wpsharely]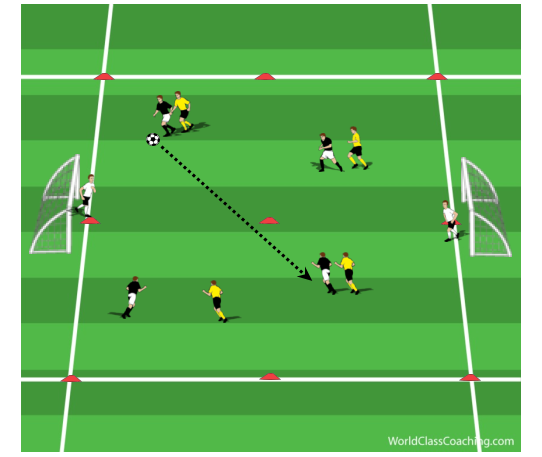 Again, the players that receives it, should make at least 6 touches before shooting or playing to a different square. It is important to have good supply of ball to ensure flow of the game.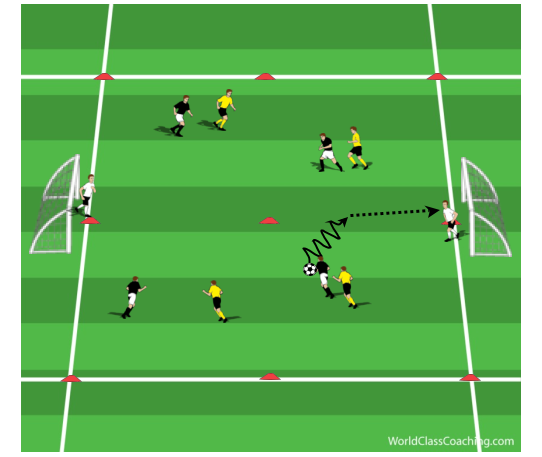 Timing
The game should be played 5-6 minutes (ensures every player works high intensity interval of up to 10 seconds, 4-6 times) in 1-2 series. The rest period between series should be up to 4 minutes.
Variations
Set amount of time in each square before playing to the next one
Place goals behind the end lines to increase shooting distance
Decrease/increase size of the area
By Alex Trukan, Development Coach, Nottingham Forest