By Soren Schamberg
With changes in management at Manchester United from Oligunnar Solskær to Ralf Rangnick, questions are abound regarding how things will be done differently. Initially, United took the field in what looked like a 4-3-2-1, but after the fist few moments of play, this formation was altered to a narrow 4-2-2-2.
As it turns out, Crystal Palace may have been able to cause problems for the United side if they had opted to mark man to man and press the defensive midfield, but they did not take this approach for the majority of the game, giving United the ability to let the wingbacks get involved in the build up play.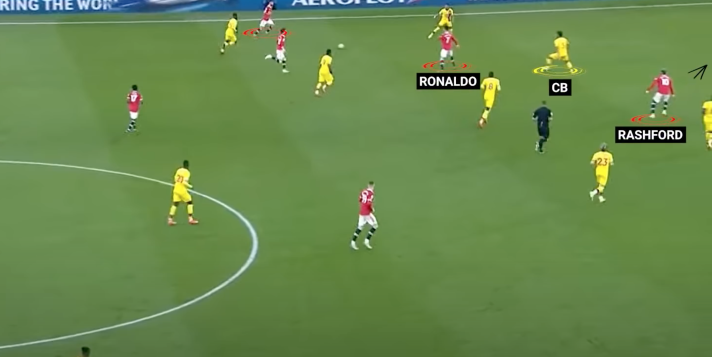 United's build up options were presented by playing the ball out wide through the wing backs and down the channels to Rashford or Ronaldo who were looming in the half space. Rashford and Ronaldo's presence against the Palace back line also presented the possibility of a ball being played over the Palace back line into the space behind.
A third option that was presenting was specifically with Sancho making runs in from the wide positions and pulling Palace defenders into the center of the pitch with him to create large amounts of space where he was coming from, allowing Rashford or Ronaldo to make diagonal runs and stretch the Palace back line.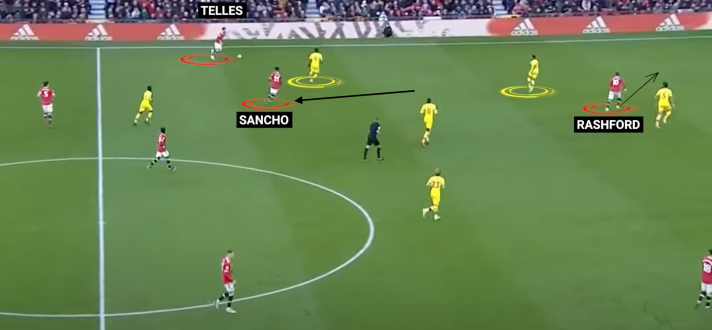 This was particularly exploited on the left, overloads being achieved when McGuire would advance in the attack and give Telles more time to receive the ball.
Defensively, United kept Sancho and Fernandez central with the flow of play, which given a turnover, would allow the United players to collapse and recover the ball quickly. It was also Sancho and Fernandez who would deter Palace from using their own pivots in the middle of the field to get out of their half.

This made it more difficult for Palace to play out of the back and easier for United to keep continuous pressure on Palace.
Though it was a single goal that gave United the win, it was a good showing tactically for the beginning of a system of play that will be built on.
By Soren Schamberg