By Alex Trukan
The presented practice focuses on speed and power endurance. These physical qualities are needed to be able to produce high quality actions throughout the game and especially towards the end of it. This modification of a classical 3v1 possession game is engaging for both attackers and defenders due to often rotations between the roles and high intensity physical work.
Set-Up and Directions
Set up a square of 10 x 10 yards. Divide the team into two groups of three. Attacking three starts outside the square, one player on one side. The second group starts in line next to one of the outside cones. Supply of balls should be organised and ready to use.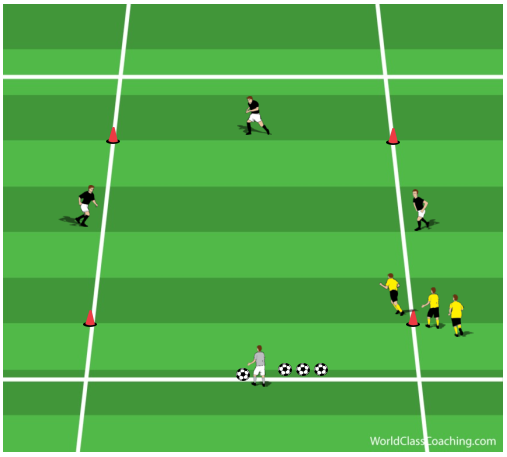 The game starts by coach playing the ball in to one of the players outside the square. At the same time, first defender comes in. The aim of the attackers is to make 5 passes, after that, the game is restarted by the coach with a new defender coming in.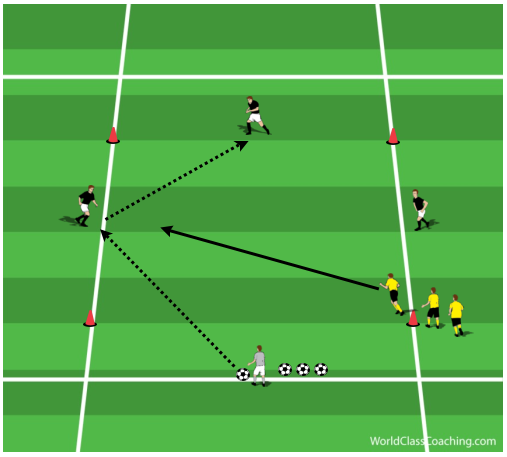 If the defender wins the ball, his aim is to dribble out of the square. The game is then restarted (new defender comes in).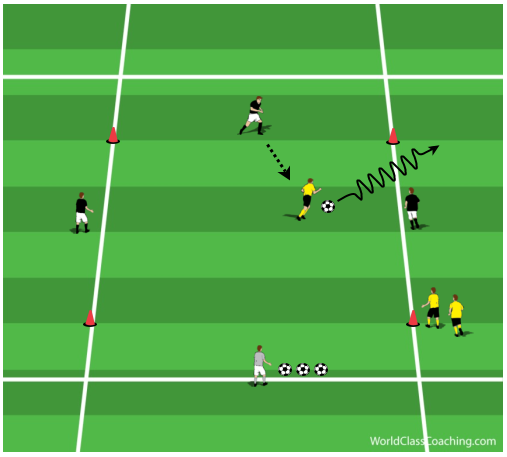 From the attacking point of view, it is crucial that player in possession has always minimum two options of pass. That requires other players to show good supporting positions.
[wpsharely id="1886"][/wpsharely]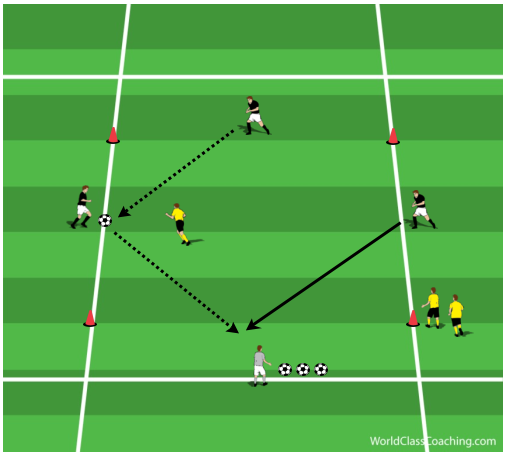 Timing 
Each round should last up to 4 seconds (or until 5 passes are made/defender dribbles out of the square if less). That should be repeated 6-10 times with 10 seconds break in between (rotation of defenders). Practice should be done in 2-4 series divided by 4 minutes active rest period (rotation between attacking and defending groups)
Variations
3 passes – one point for attackers
4v2 (less fitness effects)
Defender to get in possession and stop the ball to score a point
By Alex Trukan, Development Coach, Nottingham Forest