By Stevie Grieve, Author of Coaching the 4-2-3-1, Modern Soccer Tactics and Winning Soccer Tactics.
In the recent UEFA CL match between Barcelona and Spartak Moscow, many people expected a close match between the sides, mainly as not only are Spartak a good side, but have ex-Valencia manager Unai Emery as manager, who knows how to play against Barcelona and keep the game tight, as he did so many times with Valencia. Despite never winning against Barcelona, his team was never embarrassed and often looked like they could win, but could never take the chances.
Spartak played the game with a solid and narrow 4-4-2 formation, with Ari and Emeneke looking to play in the channels in transition, Emeneke looking to overpower Mascherano at every opportunity. Barcelona played in their usual style and had most of the possession, looking especially dangerous down the left with Tello v Kombarov, where the 1st goal came from.
Tello goal – Adriano's deep supporting run creates Tello's space to shoot.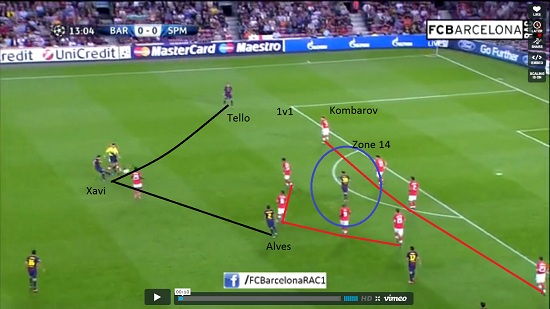 As Alves receives from Pedro, he dribbles inside, and then as he is pressed, passes over to Xavi, who knows he will
Continue reading