WORLD CLASS COACHING
Tactical Series
Antonio Conte
By Jonny Carter and Michael J. Louter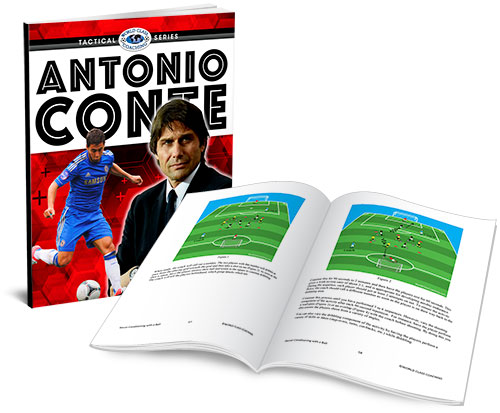 Part Three
SHAPE OF PLAY - MIDFIELD
SHAPE OF PLAY - ATTACK
WEAKNESS OF THE 3-4-3 - TOTTENHAM 2 V 0 CHELSEA
ABOUT THE AUTHORS
The Shape Of The Play | Midfield
The midfield of Chelsea FC's 3-4-3 is quite remarkable and unlike what we have discussed previously with the FC Barcelona 3-4-3 model of the 1990's. Instead, Chelsea FC in their 2016/17 version of the 3-4-3 run their midfield four the full width of the field. Victor Moses and Marcos Alonso fulfilling the wide midfield berths, #6 Right Midfield and #8 Left Midfield, really do stretch to the touch lines. This holding of the width causes huge problems for the opposition marking players as they want to remain connected to their teammates in a compact unit.
The weak-side wide midfielder holds their width anticipating a rapid change to the point of attack with a quick switch of play. Often the rapid cross field pass can find the weak-side midfielder in huge amounts of space and with an isolated opposition defender ripe for challenging 1-v-1.
The image below taken from the Chelsea FC home game versus Hull City FC we can see a concentration of players on the ball-side of the field. However, Marcos Alonso playing the #8 Left Midfielder is holding his width on the weak-side of the field. Alonso is 1-v-1 with his isolated Hull City FC defender with almost half a field of space to utilize. One quick switch ball to change the point of attack can create a very dangerous platform for Chelsea FC's offensive play.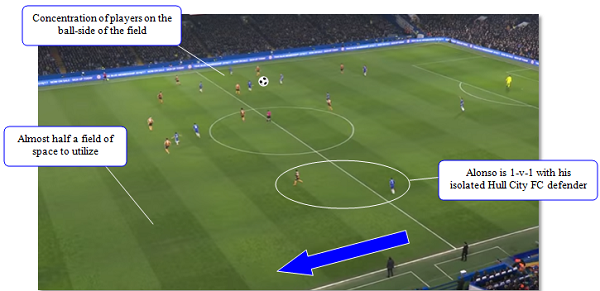 In the center of the midfield Chelsea FC have two players of amazing talent N'Golo Kanté, another summer signing from surprise Premier League champions Leicester City FC and the reformed Nemanja Matić work in tandem at the heart of the Chelsea FC midfield. Kanté has an abundance of energy that allows him to genuinely play box-to-box of field coverage; while his reading of the game is statistically immense when measured in breaking up opposition play. Matić is a monster of a man with a cultured left foot, the perfect hybrid of brains and brawn to boss the midfield.
Both Kanté and Matić, #10 & #4 Center Midfield, seem able to contribute to the attacking phases of Chelsea FC play and fulfill their midfield defensive duties of screening the back three. The right foot left foot mix of the central midfield pair adds another subtle dynamic to their combination.
On the image below we can see the four midfielders stretched wide across the field holding good width with both Kanté and Matić contributing to the attacking phases of play from center midfield, but working different supporting lines. Kanté is showing good mobility to add a supporting run into a #10 'playmaker' role ahead of the ball; and Matić holding good depth with support behind the ball. Chelsea FC are willing to attack with seven offensive players.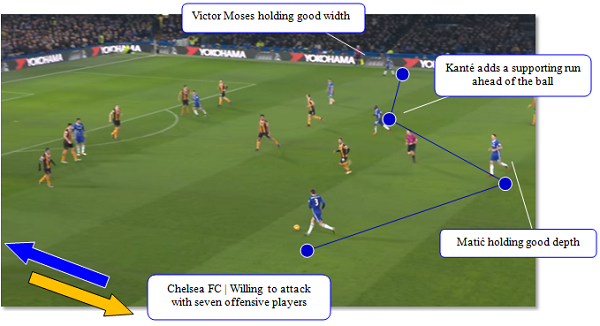 Defensively, the four man midfield is equally as impressive. The wide midfielders, #8 Alonso and #6 Moses, are asked to do a defensive job similar to that of a 'wingback'. When defending these wide midfielders drop all the way into the defensive group to change it from a back three into a back five. This discipline is particularly required on the weak-side as the defensive group slides over to the ball-side.
This discipline also requires great attitude and matching energy. The task is not suited to all players as much is asked of them to be both offensive and defensive midfielders when certain scenarios dictate. One conundrum that the coach has in this situation is selecting the profile of the player to perform the task. Some coaches will select recognized fullbacks to do the job, natural defenders and encourage them to attack. Other coaches will select recognized wingers, natural attackers and coach them to defend. Tottenham Hotspur FC in their version of the 3-4-3 system of play use recognized fullbacks in the form of #3 Danny Rose and #2 Kyle Walker.
Below Chelsea FC are defending in the second half of the same game versus Hull City FC. Here we can see the two wide midfielders have dropped into the defensive group to make a back five. Victor Moses working hard to join the defensive group on the weak-side. Kanté and Matić pressing the ball with urgency in the center of midfield. Chelsea FC are required to defend with seven players.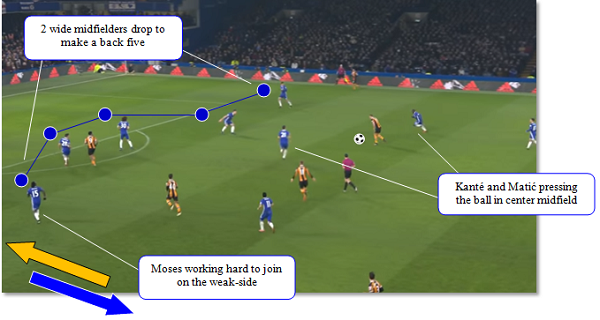 One of the apparent disadvantages for having the wide midfielders drop into a back five is the numerical imbalance in the center of midfield when playing against certain other formations. For example, if an opposing team were setting up with a three man central midfield in a 4-3-3 system of play then the two man central midfield of Chelsea FC's 3-4-3, reverting to a 5-2-3 when out of possession, would appear outnumbered in a vital area of the field.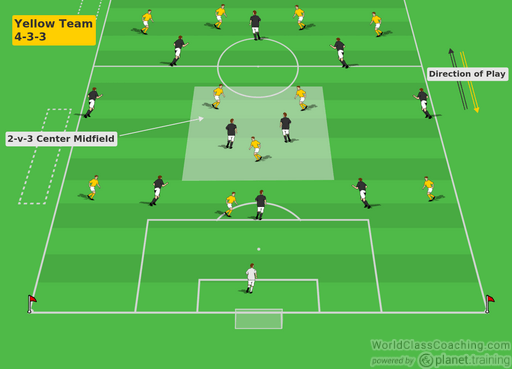 The work rate and team cohesion that Chelsea FC have fostered is currently so strong that they are able to slow down opposition build-up play even when appearing to be outnumbered in midfield. Often the desire to contribute to the team success is so great that members of the attacking three will drop back into midfield in defensive support of Kanté and Matić to readdress the numerical imbalance, often overloading this critical zone is their own favor.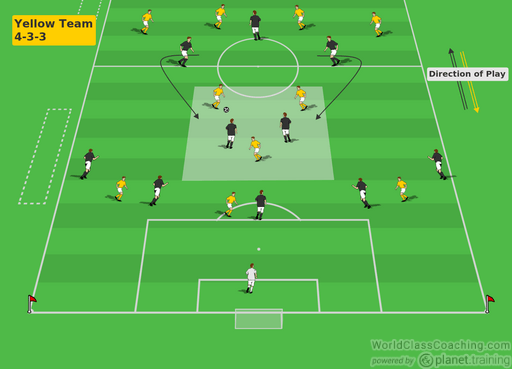 On the image below we can see the wide forwards, Pedro #7 Right Forward & Hazard #11 Left Forward, dropping into the center of midfield to help readdress the numerical imbalance.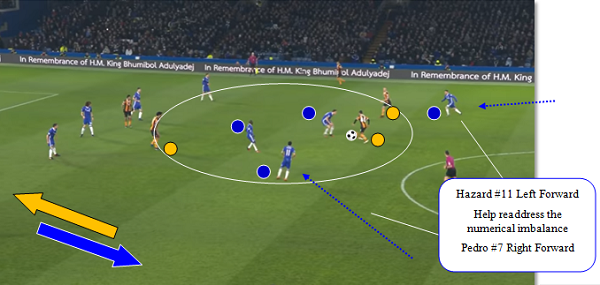 The Shape Of The Play | Attack
The Chelsea FC front three of the 3-4-3 are a wonderful example of attacking talent, even when fringe players such as Cesc Fàbregas, Pedro, Willian or Batshuayi are recycled into the team the attacking threat remains prolific.
At the focus of the front three Chelsea FC have a wrecking ball of a #9 Center Forward who can marry great physicality with delicate interplay. Diego Costa provides the attack with a focal point from which they are able to bounce off longer, more direct balls. His back-to-goal hold up play and interaction with supporting teammates searching for the second ball knockdown or connection in-behind can be described as agricultural; it can also be seen to be most effective.
Costa brings more than just physicality from his #9 role; he is able to self-create goal scoring opportunities either for himself or more altruistically for teammates. He is able to withstand outrageous physical attention from defenders and yet still retain the composure to offload or to get the shot away. Playing through the #9 Center Forward Diego Costa is the primary attacking threat Chelsea FC possess.
Around the #9 Center Forward the supporting #7 Right Forward and #11 Left Forward offer a different threat. Regularly Eden Hazard playing #11 and either Pedro or Willian most often playing #7, these diminutive yet skillful players bring speed and subtle dribbling skills that commit and can unbalance opposition defenders. The #7 and #11 often play very close to each and often away from a conventional field location. The players seem to be given freedom to roam where they wish, finding space and opportunity to operate.
The Chelsea FC front three often demonstrates excellent rotation of their attacking roles and positional interchange. Frequently overloading areas of the field in their favor, relentlessly offering support angles, combination plays and unexpected trickery. There seems a genuine coherence between the squad to want to play for each other; happy to create a goal for a friend as much as score themselves. This unstructured attacking formation is difficult to defend against as the defensive group in opposition would prefer greater clarity of who they are supposed to defend and when; their immediate opponent often changing and constantly out of position.
Chelsea FC are also very good at keeping the groups within the team connected, usually the distances between the defensive group and the midfield, and the midfield to the forward three are relatively close, 30 – 40yrds. This connection between the lines creates multiple angles of support and facilitates quick speed of play.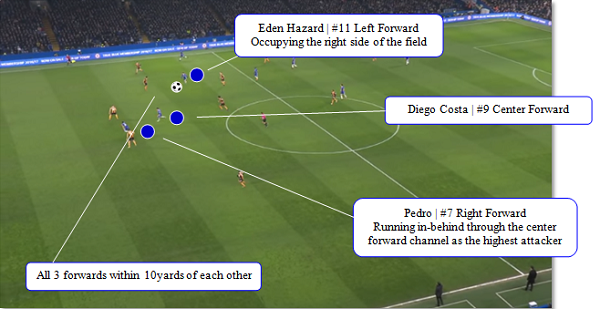 Frequently attacking phases will be built-up using the wide midfield players, drawing the opposition defensive players away from the central protection of the goal. This excellent use of width becomes a recurrent staging platform for multiple Chelsea FC goals. We can see below, Chelsea FC's first goal scored in the home win versus Hull City FC, Victor Moses #6 Right Midfield, is very high up the field and in a very attacking situation. Similar, #8 Left Midfield Marcos Alonso is already inside the danger zone looking for goal scoring opportunities with a front post run.
Perhaps not surprisingly given the rather diminutive size of Chelsea FC's Right & Left Forwards, a large percentage of deliveries from wide areas are not played in the air. However, by flooding the danger zone with large numbers of players and through intelligent box organization of those many players Chelsea FC are able to score goals from wide deliveries.
We can see below, Chelsea FC's second goal versus Stoke City FC, the ball into the 18yrd box was delivered from wide, delivered from Moses and delivered on the floor. This repeated sequence allows five Chelsea FC players to take up dangerous positions immediately in front of goal; this is a very common theme for Chelsea FC.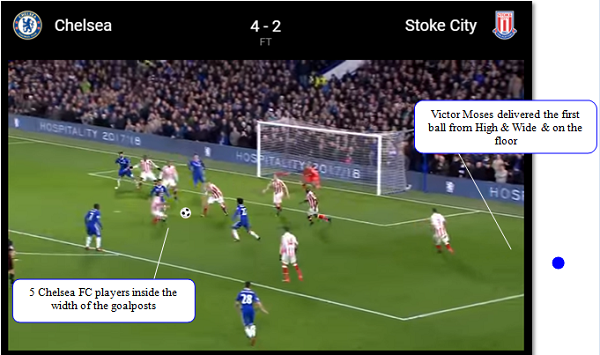 However, with some strong, tall players such as David Luiz, Cahill, Matić and Costa, combined with the ability of multiple flair players to deliver with perfect accuracy, Chelsea FC are also a threat from set-piece deliveries.
Chelsea FC have a multifaceted and yet very effective set of tactics to their attack, they are able to score goals in numerous different ways. Some are direct and simple, others more considered and aesthetic, but all are prolific. Above all Premier League title contenders right now Chelsea FC has the greatest variety in attacking threat and makes them favorite to be 2016/17 champions.
Weaknesses of 3-4-3 - Tottenham Hotspur FC 2 – 0 Chelsea FC
On Wednesday 4th January 2017 Chelsea FC's amazing, near record breaking winning streak was snapped following an epic Premier League defeat to fellow title rivals Tottenham Hotspur FC. Spurs of course have some outstanding individual talents, but it was their team strategy to play their own version of a 3-4-3 formation in direct competition to Chelsea FC that perhaps had the most influence over the victory.
Through this game and the goals that Spurs scored we can identify some of the weaknesses of the 3-4-3 system and understand how this tactical detail was able to beat a high flying Chelsea FC.
The main weakness and the obvious target for the Spurs offence was to identify the space out wide of the three man defensive group and behind the wide midfielders; space where a conventional fullback would be positioned in a regulation four man defensive group.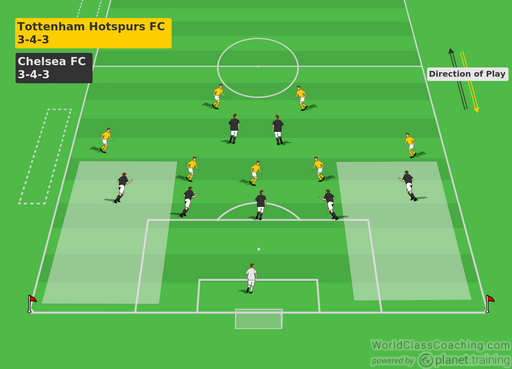 Amongst many interesting duels throughout the strategy, the most influential to the game result would be who out of the opposing wide midfielders would be able to impose their ability on the game more than the other. In this particular duel, Tottenham Hotspur FC's Kyle Walker, who is a regular right fullback but playing as a right midfielder in the 3-4-3, was able to push Chelsea FC counterpart #8 Right Midfield Marcos Alonso back into a defensive role.
This was such a frequent event and a constant puzzle for the Chelsea FC defensive organization. This continued danger was an ever-present threat to the Spurs attack. So much so, that it began to effect and unbalance the Chelsea FC structure and shape.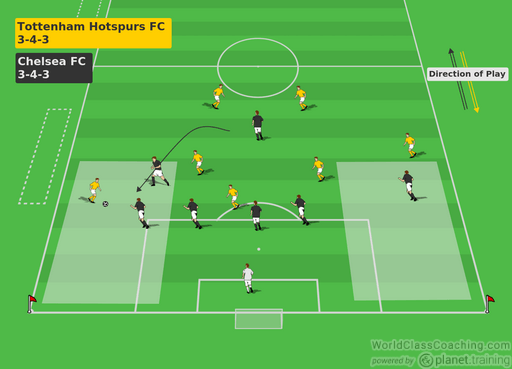 In an effort to halt the Spurs constant threat in this vital area, Nemanja Matić would frequently be drawn out of his position and required to double up on Kyle Walker to help Alonso.
This relocation of Matić in turn freed up some space between the Chelsea FC midfield group and the now five man defensive group. Tottenham Hotspur FC's front three were also very aware of this unbalancing to the Chelsea FC structure and organized their attacking shape accordingly. Harry Kane the #9 Center Forward was able to remain high and central and occupy multiple Chelsea FC central defenders. Dele Alli playing the weak-side forward as the #11 Left Forward would position in-between the weak-side Chelsea FC defenders, picking out Azpilicueta who was a physical mismatch and also challenging Moses to be honest with his defensive duties to pinch in from wide midfield. This resulted in #7 Right Forward Christian Eriksen free to occupy the space behind the play with his subtle late movement.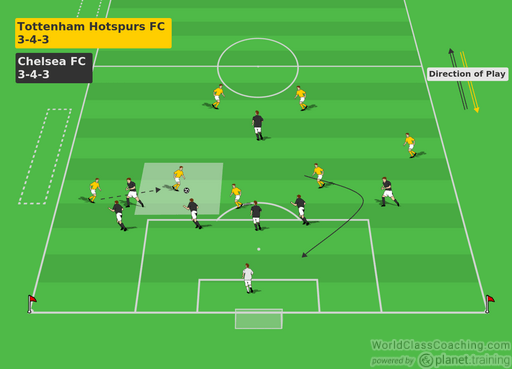 It was from this platform that Christian Eriksen was twice able to find the space and deliver perfectly weighted balls onto the head of Dele Alli. The execution of the tactics and the subtle variations of the two teams playing an almost identical system was most intriguing.
We can see from the images below how this strategy unfolded for the Tottenham Hotspur FC first and all important goal.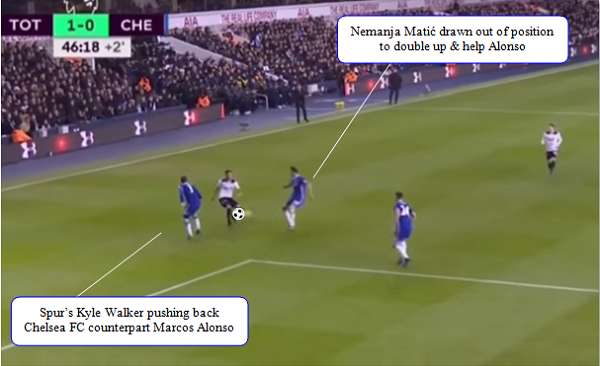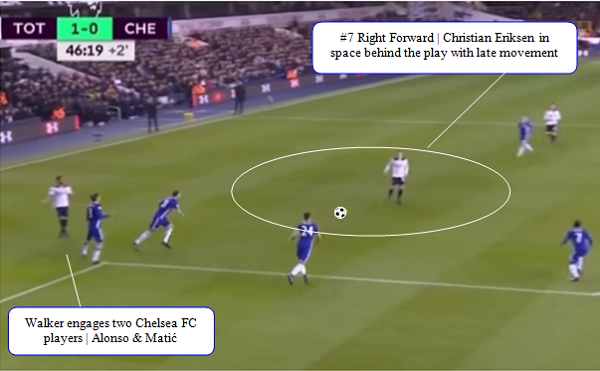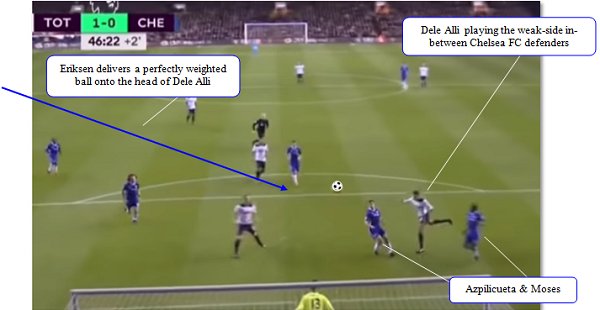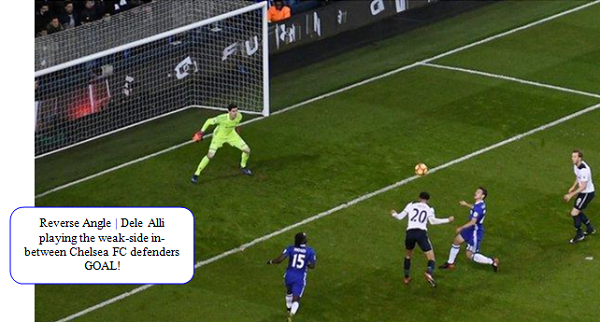 The main difference between the teams on this occasion was that Tottenham Hotspur FC were able to impose their game plan on Chelsea FC with more authority. Spurs played with a front three that denied the Chelsea FC capacity to build-up play from the back. The Spurs wide midfielders were able to push back the Chelsea FC wide midfielders changing Chelsea FC's shape into more of a 5-2-3 formation. Spurs were able to advance with their wide midfielders, changing their shape to more of a 3-2-5. And the creative movement of the Tottenham Hotspur FC's forwards created space behind the play and recognized mismatches on the weak-side.
Chelsea FC and their 2016/17 3-4-3 system of play lost on this occasion, but there are plenty of reasons to admire this strategy at work.
A Soccer Coaching Product from Education Football www.EducationFootball.com
Authors
Jonny has travelled far in search of coaching wisdom including the 1st Team Head Coach at the prestigious Kowloon Cricket Club located in the vibrant heart of Hong Kong, Vitesse Soccer based in Tennessee and as Technical Coordinator of the u13 & u15 Academy Generations | 1st Team Assistant Coach at Phnom Penh Crown FC.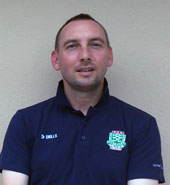 Jonny Carter is an 'A' license coach who has written and delivered the football program for the Nike Soccer Camp in Hong Kong that offers elite youth player's opportunity to experience his contemporary training methods. Jonny was the guest Head Coach for the Yau Yee League Select Team who participated with esteem at the respected HKFC Citibank Soccer 7's event in 2014, where the native team were pitted against local professional clubs and Premier League heavyweights.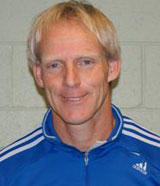 Michael J Louter originates from the Netherlands and brought with him a strong football heritage when he concluded his playing career in Holland and embarked on his academic coaching career in the US. Following his academic pursuit Michael turned attentions to coaching, marrying a keen interest in psychology with the technical and tactical components of the game. Alongside his college coaching experience Michael has excelled in the collection of coaching certificates boasting both a USSF 'A' License and the NSCAA Premier Diploma.