By Søren Schamberg -
Having a game that is easy to set up, simple to play and effective in getting players to move and think on their feet are handy. Circle Ball has helped me by being a great arrival game before a practice to get players warming up, after a practice as a cool down or as a main part to focus on the details specific to passing, movement, communication and first and final touch.
Setup
Make a circle about the size of the center circle of a soccer field, or set up in the center circle itself. Place two pop up goals in the center of the circle with the mouths of the goals facing opposite directions outward.
Make two opposing teams of up to 4 players each to play 4v4 within the circle. If more than 8 players are available, make a third team to wait for their turn. Assign a goal to each team, so they can only score in one of the two goals in the center.
Rules
The coach feeds the ball from outside the circle to begin the round and players must look for teammates and pass to score on their goal. A ball that leaves the circle is dead and the coach can play a ball in, or it can be played in by a player similar to a throw in.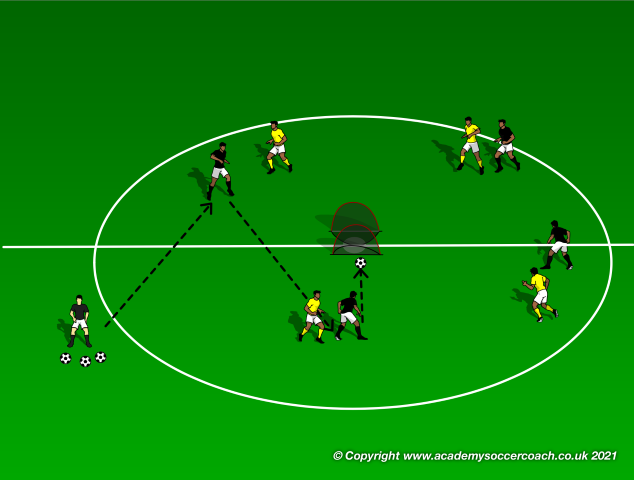 Rounds can be played to a specific scoreline or timed; the winning team stays on the field when there are more than two teams to play.
Variations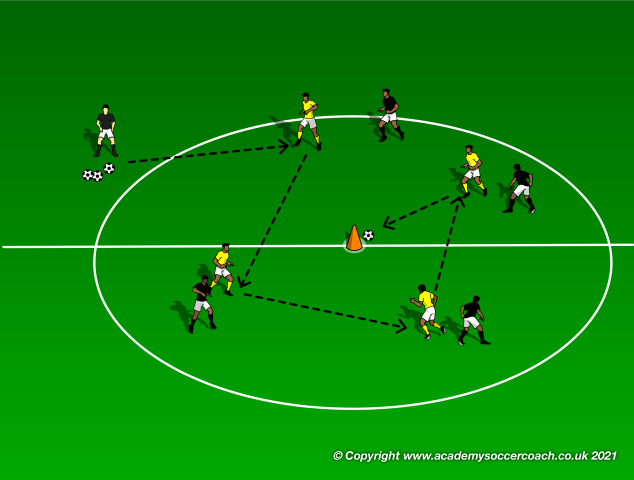 - Replace the goals with a target object, such as a tall cone or a stationary ball for both teams to hit to score.
- Limit the number of touches or passes allowed per team.
By Søren Schamberg -