By Josh Jones-Keen -
Once a Keeper has the fundamentals of distribution it's time to move on to how you would like them to play as part of the team's tactics. This phase of play session looks at the Keeper starting play from the back.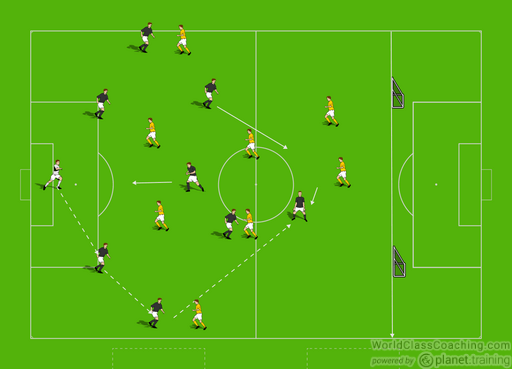 Deciding how to play has a lot to do with the starting positions of the outfield players. If the players are not playing how the Keeper needs they must tell them. If starting position is as above the movement needs to be good, the defensive midfielder can drop but not too quickly. One centre midfielder can push to support the attackers.
[wpsharely id="821"][/wpsharely]
Coaching Points
The Keeper must decide to either play to feet or in space

Does the player have enough space around them to play in to space
If so is the ball in front of them to run on to & can they control on their back foot?

Ability to find players with the correct technique

Rolling, clean along the ground
Over arm, bouncing in the right place and height

Picking the right person depending on the shape, is the defensive midfielder a good place to pass to if there is limited or no support?
Progression
Numbers can be added to fill the space more; this will work on the Keepers accuracy and decision making.
This then will progress in to a full size pitch. In an ideal world the team you are trying to coach will have 1 more player then the defending team. This allows for higher success. On the full pitch set up as near to an 11 vs 11 tactics as possible. The aim is for the team to replicate the movement and build up as they did on the smaller pitch.
By Josh Jones-Keen - Josh has been coaching Goalkeepers for over a decade & has both Outfield and Goalkeeper coaching awards from England and Scotland. He's coached at a number of levels from grassroots to semipro and currently coaches non league Women's team as well as a local academy.