By Wayne Henderson -
More than ever, the modern day goalkeeper must be as comfortable and confident with the ball at his / her feet than the outfield players. This Drill and adapted game replicates a very common passing sequence found in games at all levels. The important aspects to look for, as a coach are - the weight of the short passes,  the quality of the 1st touch to control ( if required) and the accuracy of the long passes.
Set-Up
4 goalkeepers, 4 cones, 10 footballs.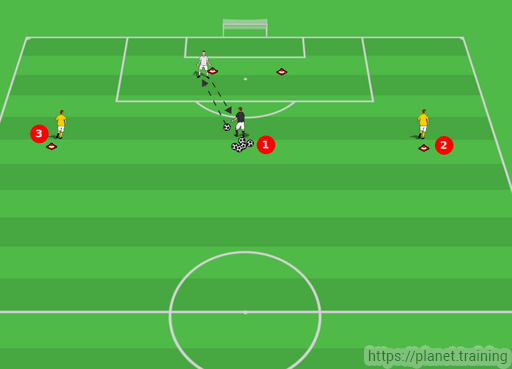 The drill starts with Feeder 1 passing the ball to the keeper, who passes the ball straight back 1st touch to feeder 1, Goalkeeper them moves across to take the pass to left side of penalty spot.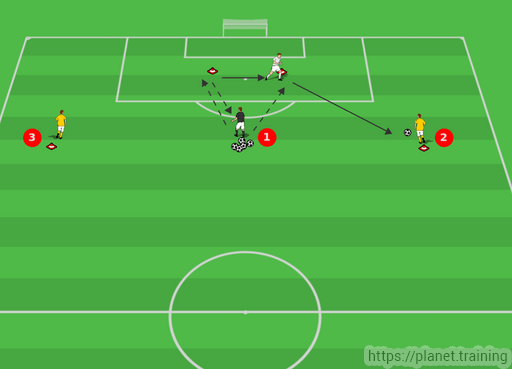 The 2nd pass from feeder 1 can be controlled in 1 touch and passed with 2nd touch or passed 1st time to feeder 2 who is in standing in wide area. Wide feeder controls pass with 1 touch – if possible and passes back to goalkeeper. Drill continues for set number of repetitions. i.e 2 successful passes to each wide feeder.
Variation / Progression
Distance of longer pass to wider feeders,
Vary the type of pass to wider feeders - i.e. drilled pass, chipped pass or curled pass etc.
Every pass played 1st touch
Scoring Game
Set up is the same as the drill apart from the wide feeders, who are now in a set area (i.e. 8 yards x 10 yards box) which can be made bigger or smaller depending on the standard of your goalkeepers.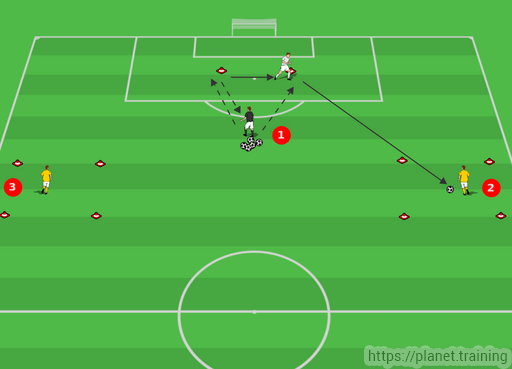 Feeder 1 has only 6 footballs. Feeders 2 & 3 stand in the middle of the "scoring zones". Points are only scored if the ball is controlled by feeder in scoring zones. Feeders 2 & 3 do not pass ball back to goalkeeper.
Feeder 1 always starts the drill and there are 6 chances to score – 3 chances to the right side and 3 chances to the left.
By Wayne Henderson