By Stevie Grieve
Liverpool under Brendan Rodgers have shown tactical flexibility all season, changing from 4-2-3-1 at the start of the season, to 3-1-4-2, to a 4-3-3 before moving to a 4-1-2-1-2 recently, giving them a tactical edge over the opposition as he can change Liverpool's structure to allow them to gain control of the match through a variety of ways.
Liverpool Diamond Midfield v Manchester United's 4-4-1-1
Liverpool marking in midfield while ball is on the side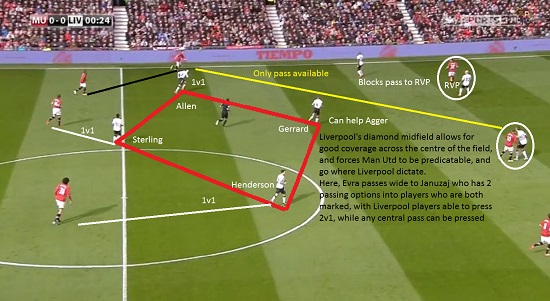 Here, Gerrard has nobody to mark so he fills in the space between the defence and midfield, as Johnson blocks the forward pass, as Skrtel marks RVP on the side, with Agger v Rooney centrally. Allen presses Januzaj on the side and cuts off most of his attacking options, as Sterling marks Carrick and Henderson stays in line with Fellaini to contain play in one zone.
Liverpool high press against the defence
2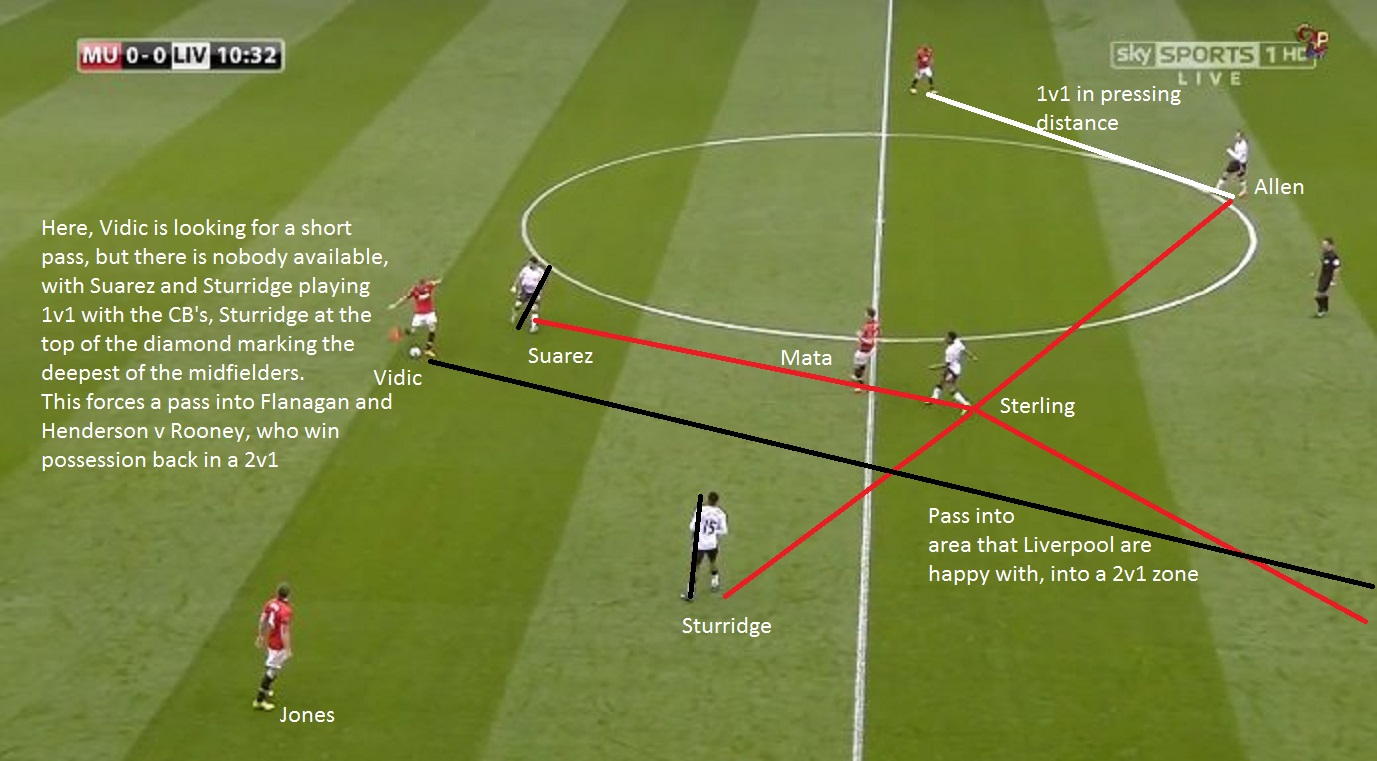 As Suarez presses, his body shape shows Vidic where he can go, while Sturridge's body shape is to force play into the only channel available where Flanagan and Henderson v Rooney happens.
Liverpool block every passing lane with the high press and midfield 4v3 overload
3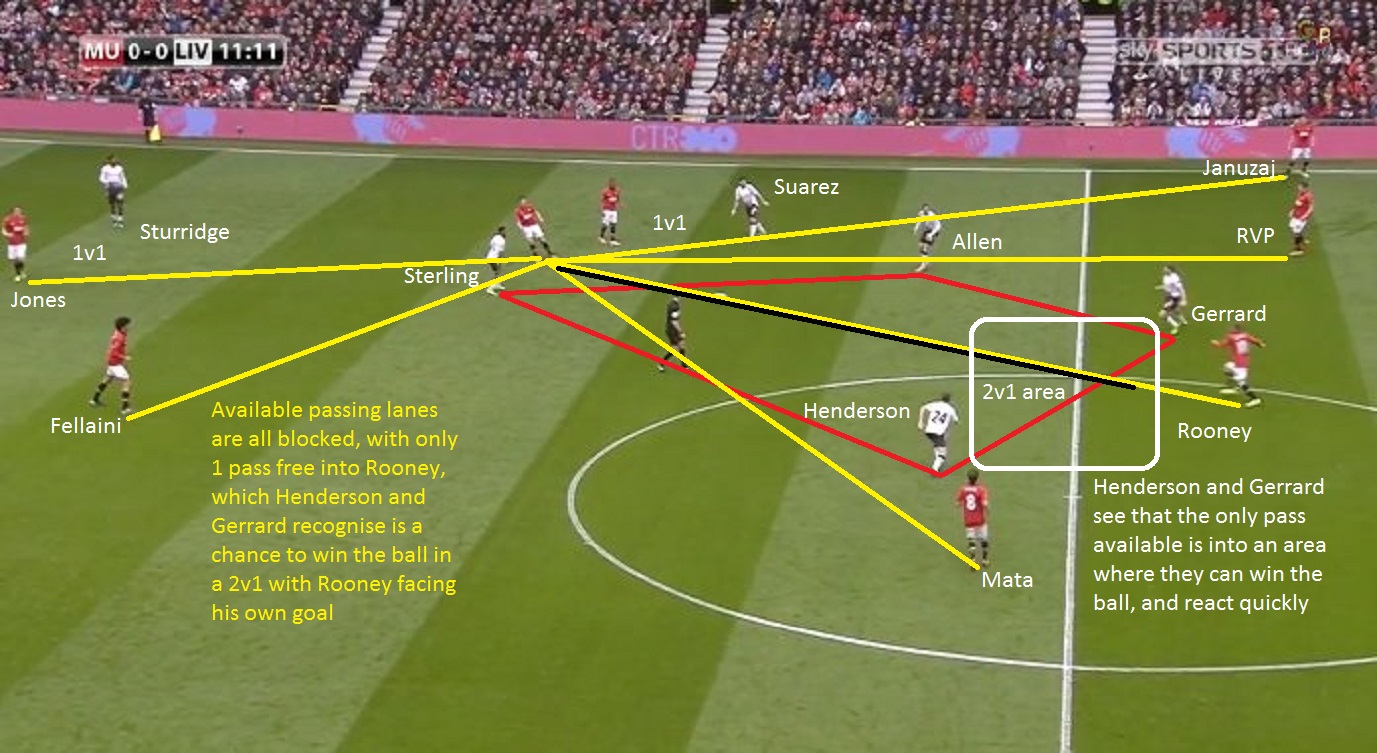 Here, Liverpool block every passing lane available, while leaving a predictable pass into Rooney, where Henderson and Gerrard are able to press 2v1 v Rooney. Even if Rooney does receive the ball, he is in a position facing his own goal.
Defending in the final 3rd – Gerrard covers between CB's who man-mark
4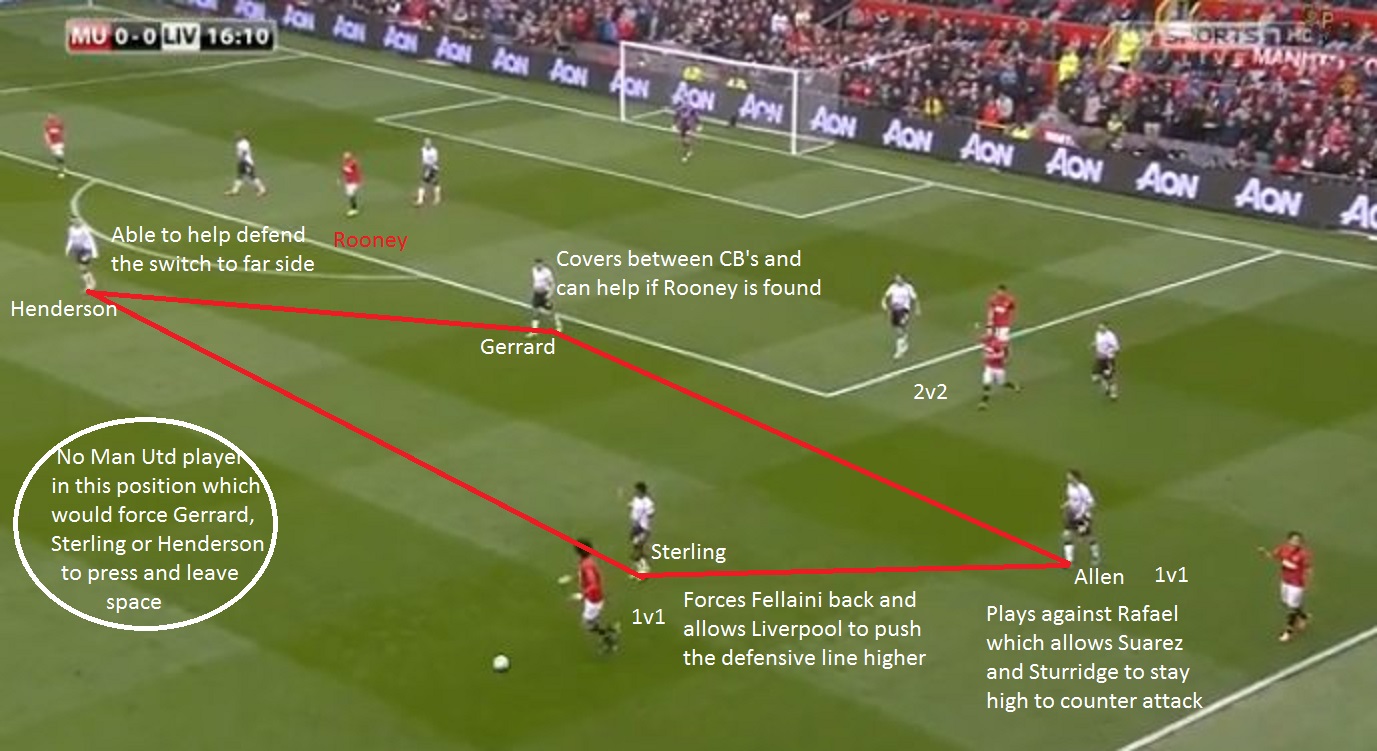 Here we can see that Gerrard fills in the space between the CB's who are split to mark the strikers, while Allen is with Rafael and Sterling v Fellaini. There is a space where Man utd can exploit in the centre of the field, but it is left free, making it possible to force play back and make the attack predictable.
Forcing long passes with a midfield overload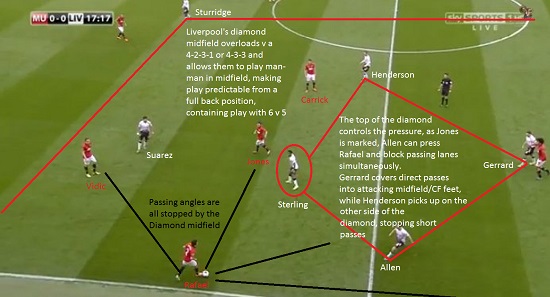 Here we can see that Suarez has allowed Vidic to pass to Rafael, which triggers the press from Allen to block the forward pass down the line, forcing a straight pass into Gerrard, or a long pass into Rooney and RVP who will play 3v2 out of picture.
[wpsharely id="2988"][/wpsharely]
Gerrard protects the defence in a 3-1 cover block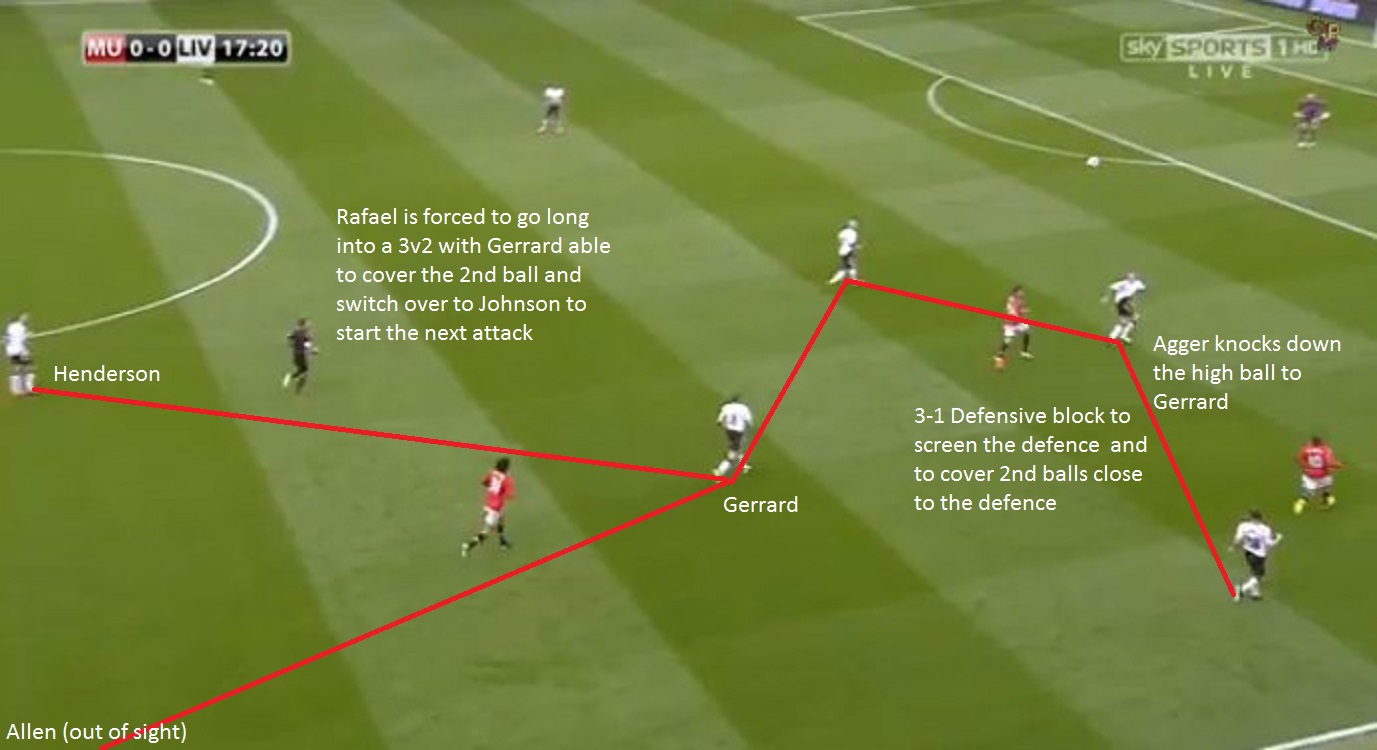 As the ball is played long, Liverpool can deal with it comfortably, with Gerrard in position to recover the loose ball or headed pass and switch to Johnson to start a new attack.
By Stevie Grieve. (Follow on Twitter @steviegrieve)  Stevie is also the author Coaching the 4-2-3-1 and Coaching the 4-2-3-1 Advanced Tactics