By Søren Schamberg -
Creating quality finishing scenarios can be a challenge. Small goals are great but can't replace taking shots on a full sized goal with a keeper. This drill is meant to provide scenarios that are as game-like as possible and for a coach, focus can be put on a number of elements in front of the goal.
The following scenario is a simple 1 v 1 and attempt a finish on goal with a keeper. This can be increased to 2 v 2 or 3 v 3 to increase the traffic in front of the goal, again, simulating a game scenario.
Set up
On the end of a field, place two small goals opposite each other about 10 yards in the direction of the half field line from the 18 yard box and along the ⅓ of the field length wise. These are meant to be targets for the defenders in this drill. Next, place a cone on the touch line and a cone in between the two smaller goals. The touchline cone is where the defenders will begin and the cone closer to half field will be where the attackers will begin.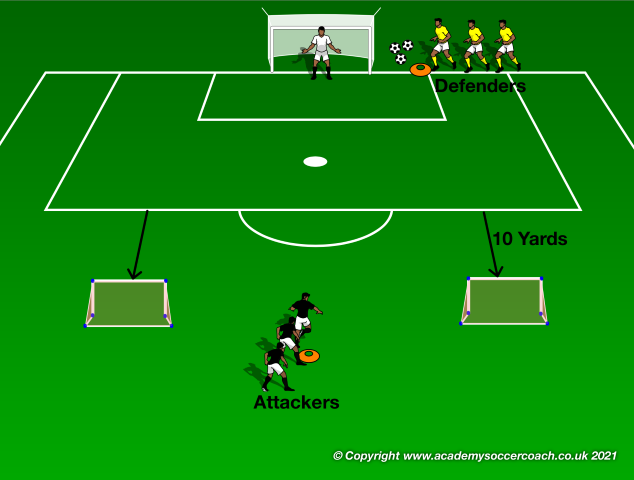 Gameplay
Balls start with the defenders who begin a turn by passing the ball out to the attackers line outside the top of the 18.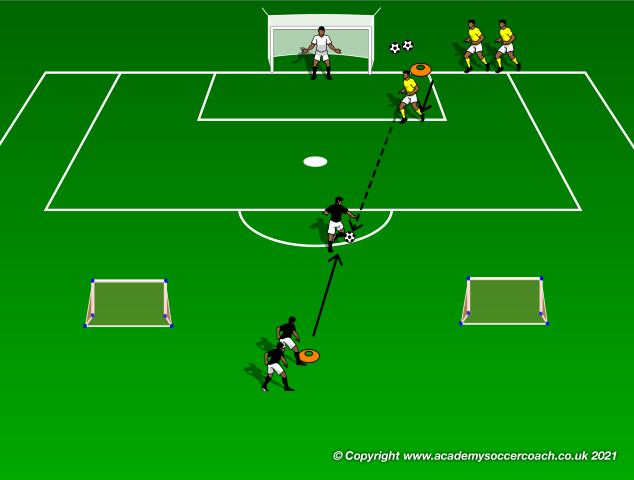 The attackers should receive the ball and dribble into the 18 to create a 1 v 1 and finish by taking a shot on goal. Defenders should be attempting to block the shots or win the ball and pass it into the small goals to simulate an outward distributing pass to begin a counter-attack.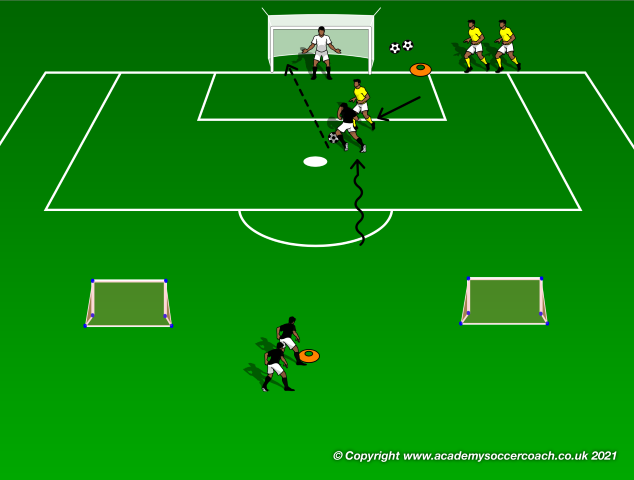 Talking Points
- It will be important to emphasize that the attackers DO NOT take shots before taking the defender on to avoid long shots on goal. The focus is to improve the touches leading to a shot, body positioning, reading the goalie, placement and power.
- If defenders win the ball, it's important to emphasize that their passes to the small goals are fast and accurate as if there was a fast counter-attack opportunity. DO NOT let them dribble the ball up to the small goal, that isn't the point. It would also be important to notice which goal they pass it to in relation to the play and control of the field.
- Consider keeping the attackers on the team attacking and the defenders defending and not have them rotate through.
Variations
- Increasing to 2v2, 3v3 or 4v4, having the groups all start from the same point would require the players to take up a formation quickly, force communication and intensity in moving the ball.
- Instead of the defenders delivering the pass, have the coach deliver the pass from various areas of the playing area and in a variety of ways - on the ground, skipping, bouncing, in the air, etc.
By Søren Schamberg -