My U13 team that is playing in the 4-3-3 formation played it's first tournament this weekend. I think it's very beneficial to have an early season tournament so that the team plays three or four games over the course of a weekend. Generally I'm not a fan of the current tournament system and feel that they put too much emphasis on who has the fittest team rather than who has the best team. But the advantage is that you can spot areas that need to be worked on in one game and then come back and focus on those in the next game.
After an early season tournament I usually have two or three weeks of sessions in mind based things that we need to improve on from those games. This weekend we were clearly the strongest team but we ran into a team that knew our players and system of play. They sat in and played a 4-5-1 (which looked more like a 4-6-0 at times) and just looked to catch us on the counter attack. They were successful in keeping us out because we didn't move enough to pull them apart and create 2 v 1 or 3 v 2 situations.
So this weeks sessions will revolve around movement and combination play. I'm not a fan of pattern play, especially for young players. I feel that it can restrict their creativity and ability to read the game and make decisions. At the same time, giving the players some combinations they can try will give them the picture but then it's important to let them improvise against live defenders. Here's what the first session will look like.
Diamond Passing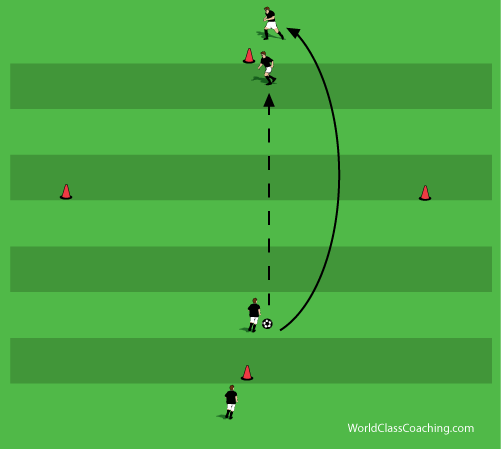 Three diamonds with five players in each one. The diamonds are spread out on half of a field; one on each flank and one in the center. We start by passing and following the pass. These passes are mixed in with dynamic activation movements like lateral lunges and others from our Ultimate Soccer Conditioning Pack.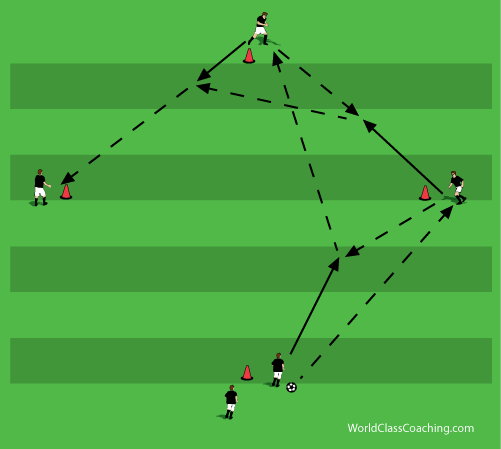 Then I'll give them some combinations to try. They will begin as simple give-and-goes and progress to include overlaps and third-man-runs like the one above.
Coaching Points
Check toward the ball and ask for the pass
Time your run to arrive when the pass can be played
Angle and distance of supporting runs
Quality and pace of passes
Free Combination to Shoot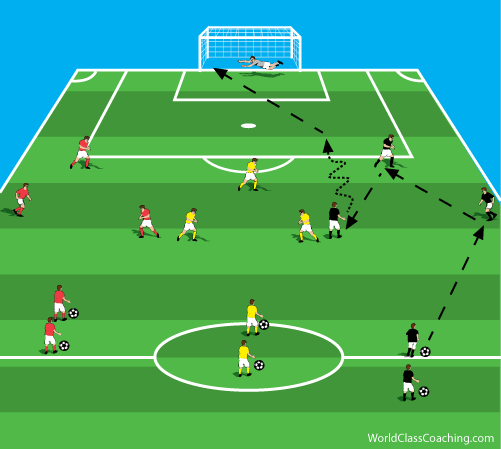 As I said earlier, I think this is an important phase because it forces the players to read each other and communicate in order to combine. The same three diamonds are used to begin with but then removed so that they players are free to move as they would in the game. One group goes at a time and attacks a goal with a goalkeeper. Rotate the groups every few minutes so that they all attack from the right, left and center.
Coaching Points
Move the ball at game speed
Avoid 'Flat' passes
Use angled or diagonal passes
Attack the goal quickly
Follow for rebounds
Three Groups of Five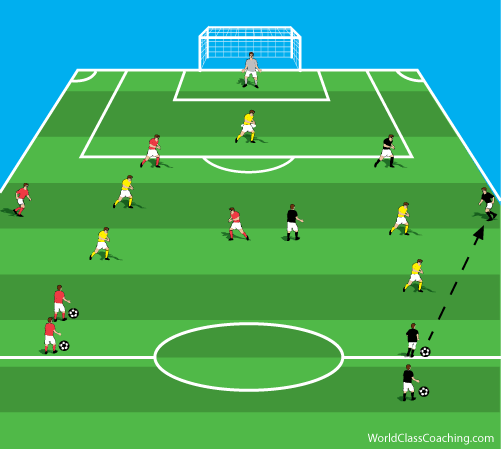 One team attacks on each flank while one team acts as defenders, two on each flank and one in the box. The attacking groups now attack however they like and try to score. Look for the coaching points from earlier in the session. How are the angles and depth of support? Are the players checking toward the ball? Is the timing of runs good or is it too early or too late?
Rotate the attacking and defending groups every few minutes.
8 v 8 on Half of a Field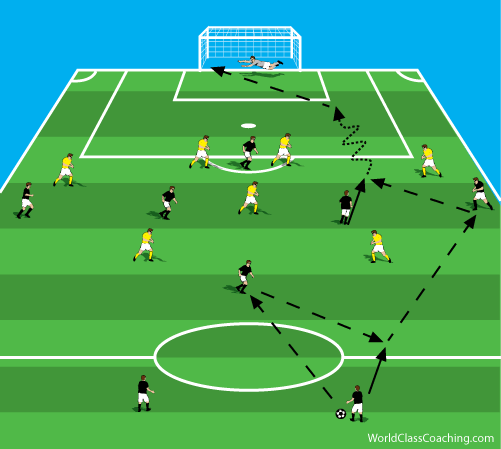 The small-sided game will show you whether or not the players understood the movement and combinations that you worked on during the session. One team attacks the goal while the other attempts to dribble across the half line to score or pass to the coach.
Are there other things that you would do to encourage combination play and movement?
Have a Great Day!
Tom Mura