In basketball, some players are referred to as shooters while others are referred to as scorers.
A shooter is someone who is fundamentally very sound.  If you give a shooter an open shot, they will typically score however, they usually struggle creating their own shots or scoring while under pressure.
Scorers, on the other hand, might not be as fundamentally sound but have a way to be in the right place at the right time, and are capable of creating their own shots and finishing while under pressure.
As soccer coaches, we tend to spend much more time working on developing shooters than on developing scorers.  There are a couple of reasons for spending more time on shooting and less on scoring.
It's easier - It's much easier to talk about plant foot placement, getting the knee over the ball, locking the ankle etc
It can be done with only one person - Lining up balls at the top of the 18 and having shots hit while concentrating on proper technique can be done by one person
"Results" can be seen right away - If you work on proper technique, it can be applied right away and with the use of video, the players can see, in a very short period of time, whether they are doing it right or not
Working on finishing is more difficult (and some people feel it's something a person either has or doesn't have).  Players such as Raul (formerly of Real Madrid and currently playing for Schalke 04) and Zlatan Ibrahimovic (formerly of Ajax, Juventus, Inter Milan and Barcelona and currently playing for AC Milan) have found ways to be in a position to score (and then are willing to put their bodies into position to finish) when others are more likely to have not done the same.  Even a young player such as Manchester Uniteds Javier Hernandez (formerly of Guadalajara) is able to find space that other, more experienced players, never seem to find.  When you see a player like Hernandez play it does make one wonder if some of it is somewhat innate because he is so young yet so good at finding space and then finishing that it makes one wonder if it can be taught.
I'm not sure you can take someone with no scoring tendencies and turn them into a great goal scorer but you can definitely help a player improve their goal scoring abilities.
One way to work on this is to get players accustomed to receiving the ball and finish while under pressure.  To begin, the pressure can be from limiting space but then you can build in to add a defender.
Start with a player in the D and a server 15 yards out with some balls.  There is a keeper in goal.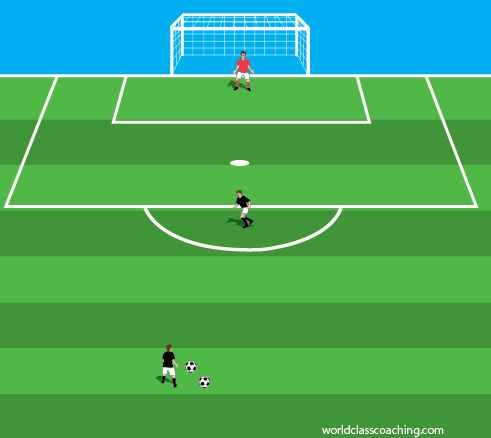 The server plays the ball into the player and the player has two touches to receive the ball and get the shot hit from inside the D.  The ball can not stop moving so it must be touched into space and then a quick shot gets hit.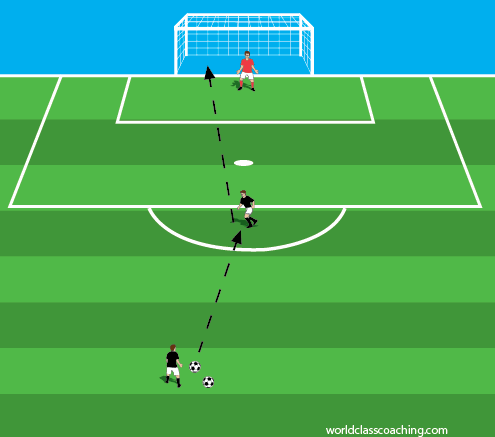 Some balls should be played on the ground while others are driven in or chipped in.  Since the shot must be hit before the ball leaves the D there might be times the ball will get hit quicker than the player wants or from a different position but this is part of being a scorer.
Next you would do the same thing but now add a defender.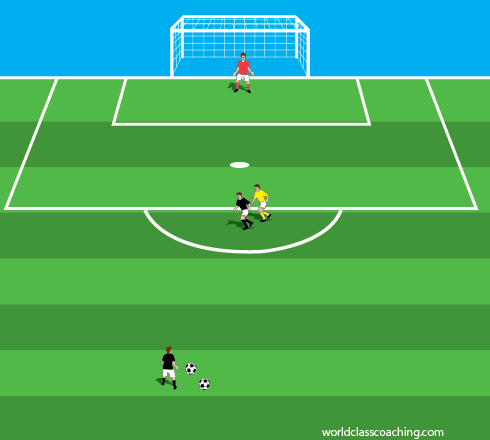 In the beginning the defender puts token pressure on the player but gradually this will get up to where the defender is live trying to win the ball or prevent the shot.  You might need to allow more touches but still, the ball must not leave the D till the shot is hit.
Vary the angle the ball gets played into the D so the player gets accustomed to finishing from balls played in from different parts of the field.
There are many other ways to work on becoming a better finisher as opposed to just a better shooter and this type of topic, like many others is discussed in the DVD Coaching Advanced Players - Improving the Individual Player Through Advanced Technical Training.
Lawrence