Wait, Your Order is NOT Complete!
Please Customize Your Order Below
Before you finalize your order, I want to make you a very special offer, saving you 57% on four of our best-selling books.
Thank you for your order.  You are now part of over 56,000 coaches all over the world that use WORLD CLASS COACHING books, videos or regular coaching subscriptions...all to help them keep on the cutting edge of coaching information, trends and tactics.
Smedleys Drills

is made up of four volumes totaling over 600 complete drills. These eBooks sell for $27 each which is $108 for the four eBooks. But if you want to add them to your order now...

you can have them for just $47 instead of $108, saving you $61

.
PLEASE NOTE - this special offer is only available right now...only if you add it to your order here. It's our way of saying thank you and rewarding our loyal coaches.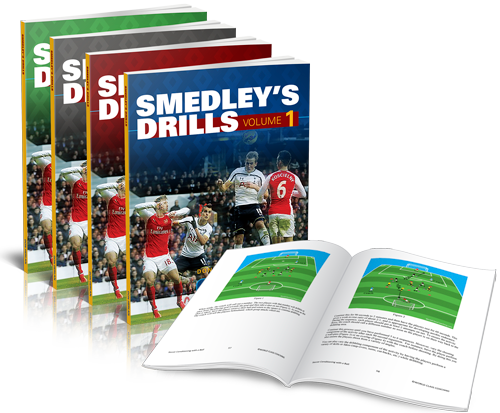 So let me tell you a little bit about Smedley's Drills. As I said, there are four volumes totaling with over 700 pages and more than 600 drills. The author is a coach called Don Herlan. Don has tons of knowledge and experience. After playing college soccer Don moved right into coaching college soccer with the University of Buffalo and is now at Longwood University. Herlan also holds a masters in Exercise Physiology...so he knows his stuff.
All topics are covered like dribbling, turning, goalkeeping, small sided games, shooting, attacking, defending...you name it and it's covered in one of the volumes of Smedley's Drills. You will never run out of drills to do at practice ever again.
So there you have it. Four volumes of Smedley's Drills written by an experienced college coach. Instead of paying $108, just click the button below and add them to your order and
they are yours for just $47

.
This offer is only available NOW...if you want to include it with your order.
So go ahead and click the button below if you want to add it to your order your order or you can click the text link if you don't want to add it. Either way, thank you very much for being part of WCC and good luck on the field with your team.
"Remember, we have a 100% money-back guarantee.  If you don't like the eBooks, we will give you a full refund...no questions asked".  
So there is no risk!

No thanks - I don't want this special offer - just complete my order