By Stevie Grieve, Author of Coaching the 4-2-3-1, Modern Soccer Tactics and Winning Soccer Tactics.
In the recent Arsenal v West Ham United match, the score was 1-1 at half time. Santi Cazorla was playing at the top of the midfield triangle in a 4-2-3-1, and was being followed almost everywhere across the line between midfield and defence by Mark Noble. In the 2nd half, Arsenal changed shape slightly, with Cazorla dropping into a midfield 3 with Wilshere and Ramsey, in theory, allowing himself to drop deep and play without Noble. In effect, Noble continued to follow Cazorla as he moved even deeper, and this allowed lots of space to open between the lines and opened up passing lanes that Noble had previously covered playing in the defensive midfield role. In one instance, Cazorla's goal, Noble followed him around the field but once Cazorla passed and moved to the blindside, Noble never recovered into position, and Arsenal exploited this via good movement from Podolski, Gibbs, Giroud and Cazorla.
Cazorla inside his own half in possession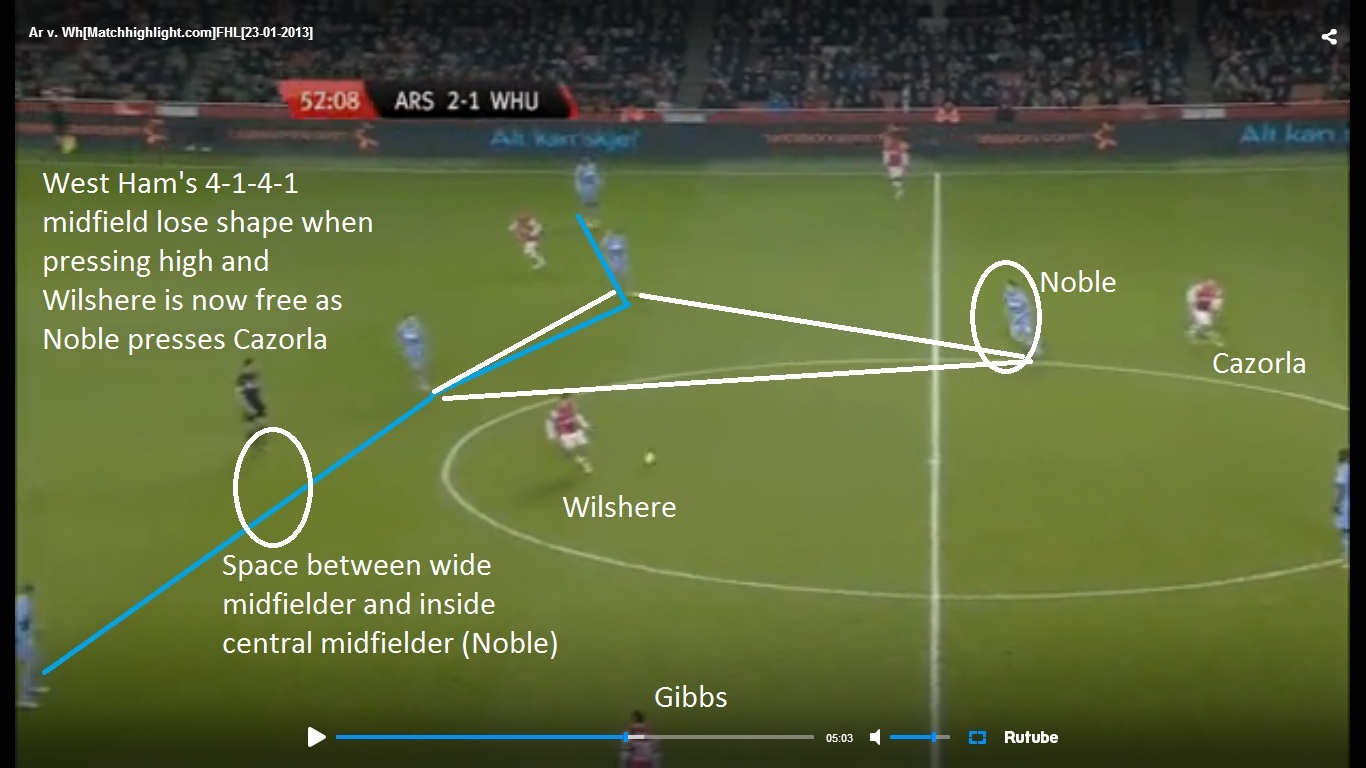 Cazorla has dropped almost into a defensive midfield position to receive and distribute, but Noble has followed him. His midfield team mates have not re-shaped quickly enough to fill in the spaces where previously Noble had been – close to Cazorla. When Wilshere receives, he has lots of space to move into and allow time for team mate movements before passing forward. Cazorla will cleverly move after the pass to the blindside and continue his run – will Noble?
Wilshere finds Podolski with support from Gibbs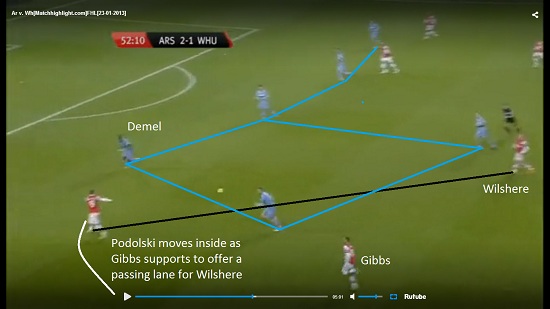 As the ball is passed to Podolski, Gibbs starts to move inside and offer a pass inside for Podolski as Collison moves with Demel to play 2v1.

As Podolski delays the 1v1 with Demel, Collison tries to track the run inside of Gibbs. Instead of continuing inside, Gibbs gives Collison a decision to make by cutting outside – the problem for Collison is that Gibbs can be free on the overlap in a 2v1 if he continues to move inside, or he can leave the space inside Demel (onto Podolski's weaker right foot) and cover the pass to Gibbs.
Demel doesn't defend – Giroud exploits the space left by Noble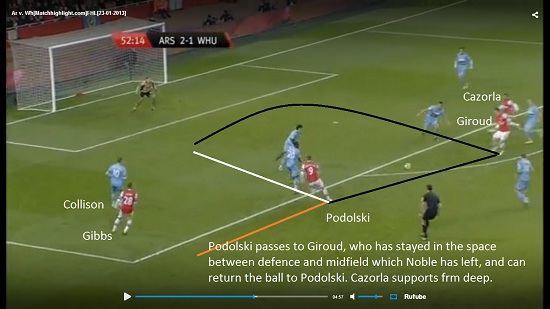 As Podolski cuts inside, Demel follows, leaving a space behind him for a difficult to make 1-2. As Giroud had watched Noble follow Cazorla out of position, he knows that he can stay in the space and draw an opponent out later. Podolski uses Giroud who is free and the pressure comes too late as Giroud makes a good return pass to Podolski.
Note Cazorla is still on the blindside and supports from deep and unmarked.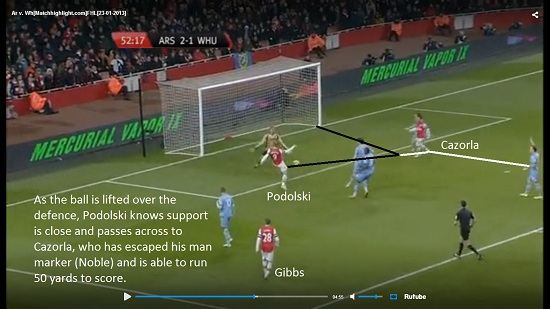 As Podolski brings the ball down, he knows he will have support close-by and passes to Cazorla who moves to the ball and protects it as it runs across his body before Cruyff-passing the ball with his left inside of the foot into the net under pressure.
Tracking Cazorla's movement v Noble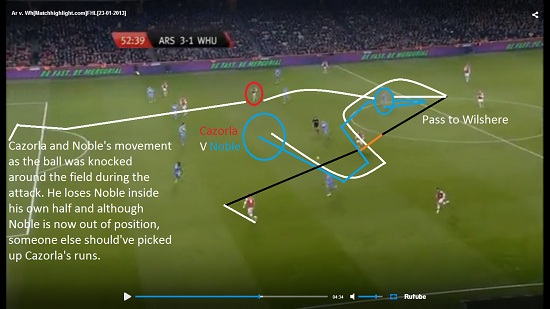 Cazorla – white movement
Noble – Blue movement
Noble followed Cazorla up to the point Cazorla passed to Wilshere, then never recovered into shape. Both players started inside the blue circle and this space was later utilised when Wilshere passed into Podolski who made the assist for the goal after cutting inside (the space which Noble covered in the 1st half before Cazorla was asked to play deeper) and finding Giroud for a 1-2 on the edge of the box.
Good movement from Gibbs made extra space for Podolski and good positioning throughout the attack by Giroud contributed to the success of this move to result in a goal for Arsenal via Cazorla.
By Stevie Grieve, Author of Coaching the 4-2-3-1, Modern Soccer Tactics and Winning Soccer Tactics.  Check out his new book, Coaching the 4-2-3-1 Advanced Tactics here.